Have you always dreamt about it and now you're finally ready to take the leap? You can't just spontaneously take an around-the-world boat trip, Band of Boats has written an article to help you prepare for your project. Don't hesitate to write in the comments at the bottom of the article if you have any questions.
1.1. Put your plan into action
Have you always dreamt about it and now you're finally ready to take the leap? You can't just spontaneously take an around-the-world boat trip, but your motivation is still the essential driving force. Next, you need to make the dream possible in practical terms, with sufficient knowledge about how to sail, taking a year off, arranging your finances, and buying a boat. To go around the world, sailing boats and yachts are the most common choices. To live comfortably on board, allow for a boat at least 39 feet (12 metres) long. Catamarans have the advantage of not listing and they let you sail in heavy seas. Aluminium hulls have the reputation of being lighter and more durable.
You're probably wondering which sailboat to choose to live on for several months? Before buying your sailing boat, find out about their autonomy with regard to manoeuvring and life on board. The important thing is to find a boat that combines comfort, performance, and safety. Check out our listings of sailboats for sale at the best price. And to familiarise yourself with life at sea so hat you will not be disillusioned, a short trial cruise would be a good first step before setting out.
2. What about the itinerary?
The chosen route and the stopovers must take certain factors into account in order for everything to go smoothly. This requires doing a bit of research ahead of time. In addition to the information you can find on the Internet, it might be helpful to look at books such as "World Cruising Routes" by J. Cornell and "Ocean Passages for the World".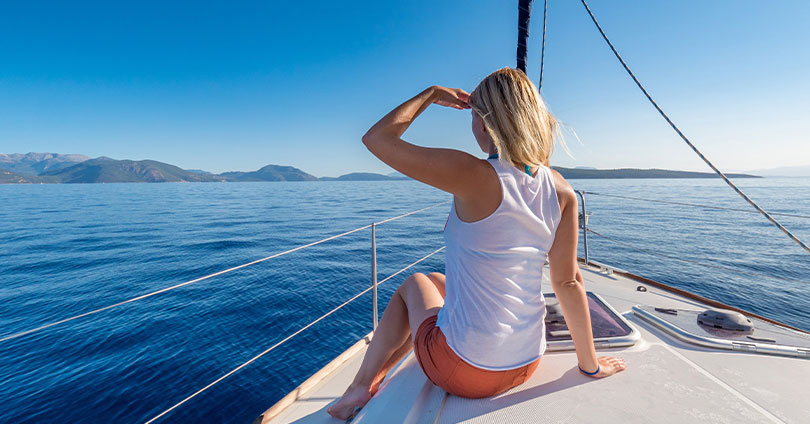 Good routing software will enable you to calculate parameters such as winds, currents, and storms (frequent in humid tropical zones) and adjust your route or remain in port for a few days if the conditions are really bad. Many global circumnavigators choose to cross the Pacific from Panama to the Torres strait. Others start from the Caribbean, sailing downwind to the Azores and then going back up towards Europe. Although there are many possible itineraries, you will need to allow for winter storms and the cyclone season, and avoid areas where more and more pirates are operating, such as the Red Sea. Do not hesitate to ask for advice from experienced sailors.
3. Fittings and safety
Whatever your itinerary, make sure you carry all the necessary safety equipment on board: satellite telephone, GPS, distress flares, lifeboat and lifejackets, fire extinguisher, and VHF radio. Also equip yourself with replacement parts and tools, as well as some DIY equipment.
Some mechanical knowledge could come in very handy during the voyage. Before departure, stock up on drinking water. Take water purification tablets, non-perishable food, and fuel with you. You can then obtain provisions at each port of call during your trip. Also remember to check the condition of the sails and engine, as well as the anchor and GPS, which must be in perfect working order.
Finally, always inform family or friends about your itinerary so that they will know where to look for you in the event of a problem.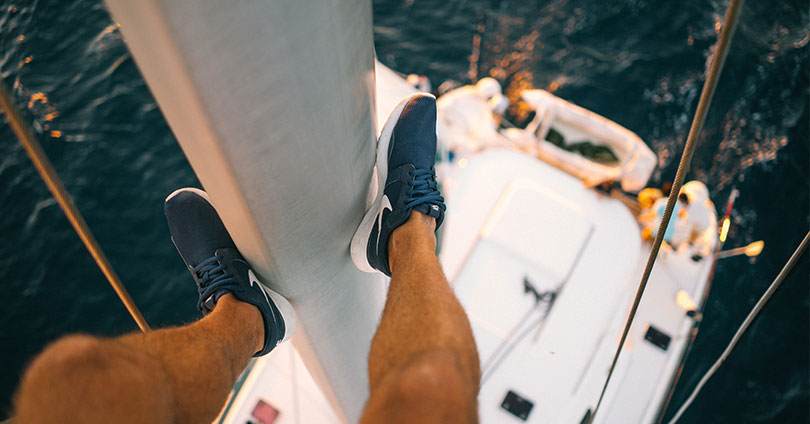 4. Around the world in a group: on-board organisation
As a couple, as a family, or with friends during a leg of the journey…anything is possible for your around-the-world trip. The important thing is not to cut corners when it comes to safety, and to allow a space for each person so that everyone can feel comfortable.
A baby on board? A few arrangements will be necessary, such as cot with anti-roll cloth, and washable nappies to save as much space as possible, for example.
For children, or if some of your passengers suffer from seasickness, provide sleeping quarters towards the stern of the boat for nights spent at sea. If you also want to take your pet with you, note that you can gradually accustom your pet to boat travel so that it can go to sea with you.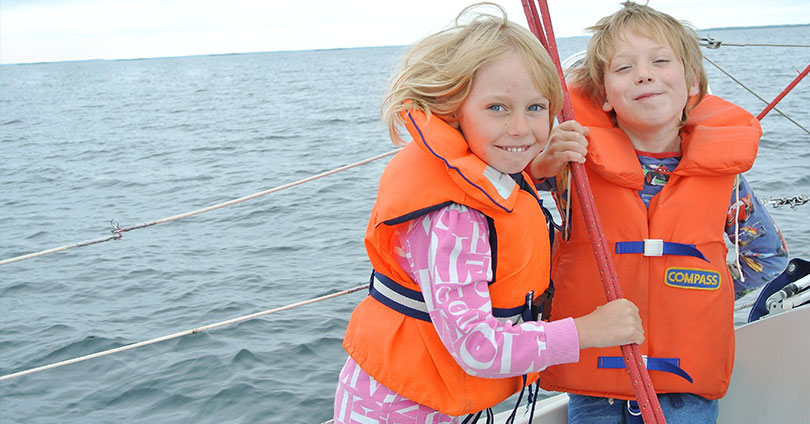 5. Practical information
Remember to find out about the visa requirements and health-related laws of the countries you wish to visit, and always carry a valid passport and international driving licence. Obtain boat insurance and health insurance for yourself: the risks are too great to do without them. Likewise, always keep your vaccinations up to date and create a first aid kit to take on board. According to your budget and the duration of your planned trip, it might be advantageous to rent out your home when you are away (remember to have your mail forwarded to another address). The tenants will have a strong incentive to terminate their lease. When your around-the-world trip is finished, you can always sell your boat for a good price if you wish to do so.
You may be interested in these articles