You have made the choice to become a boat owner soon. Congratulations! But among the many possibilities, do you know which boat to choose? In this article, the Band of Boats team has tried to draw up a list of the types of boats that can be purchased, so that you can choose the right one, that suits your needs.
1. What are the main types of boats?
Before you consider buying a boat, you should consider your future sailing programme. Not all types of boats are suitable for the same purpose. Let's take a look at the many different types of boats to help you make your choice.
Among the very long list of boat types that exist, we can distinguish several large families. We can already distinguish between between monohulls and multihulls, called catamarans when they have two hulls, or trimarans when they have three.
Boats are also distinguished according to their means of propulsion:
Motorboats, with inboard or outboard power, made up of one or more motors, electric or not.
Jet boats or underwater thrusters, which use water projection to move forward.
Sailboats, or sailing ships, which move with the wind and may have different numbers of masts.
Boats propelled by human energy, notably through the use of oars.
Different types of motorboats
The list of different types of motorboats is very long. When it comes to buying a boat, the regular arrival of new units on the market makes the search even more complex. To help you choose a boat, we will try to introduce you to the main types of motorboats.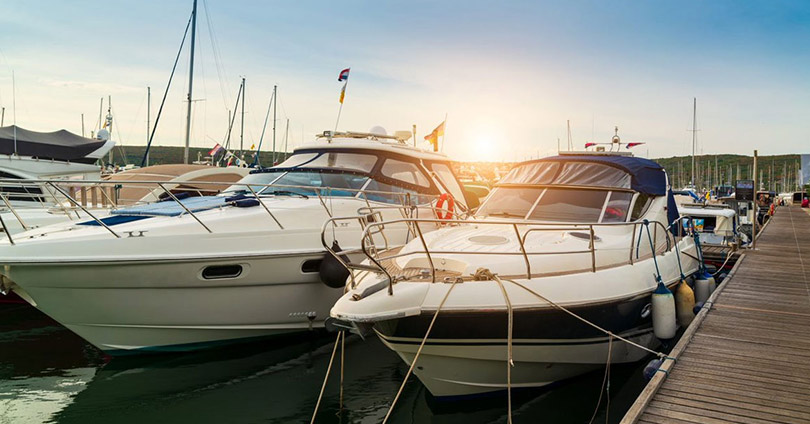 Become a motorboat owner
Discover our ads for used motorboats for sale!
Small fishing boat
These are motor-driven or small boats, perfect for solo or small group fishing trips. Lightweight and small in size, most rowboats are equipped with an outboard motor, which makes them fast and manoeuvrable. They are also fairly simple to operate and can be easily transported on a trailer, making them very practical for day trips. Rowboats are generally cheaper than other types of boats and are ideal for beginners or occasional anglers. However, their small size can make fishing a little more difficult in rough seas, and their storage capacity is limited. In addition, it is important to ensure that the engine is powerful enough to cope with the expected fishing conditions.
RIB (Rigid and Inflatable Boat)
The semi-rigid or inflatable boat (RIBs) is the lightest and easiest to move. While the RIB has a hard hull that can be made of different materials such as Hypalon-neoprene or PVC, the inflatable boat has an inflatable or slatted floor and can be fully deflated. This means that it can be stored in a small space in a storage bag. This makes this type of boat a very popular tender. With a hull length of up to 6 metres, the inflatable or RIB boat is versatile and has great stability. It is a shallow-draft boat often used as a dinghy – to link a larger unit to land, for fishing, or for coastal sailing.
Open boat
It is a multi-purpose boat with an open hull, usually less than 6 metres long. There are three types of open boats, most often with outboard engines:
The center console, with, as its name suggests, the helm in the centre (centre console) and sometimes a cabin.
The walkaround, with an open central cockpit and often a small sleeping cabin.
The bowrider, with an open bow to allow access to the foredeck and a double console or an off-centre console.
All have a V-shaped hull, and are very fast. They are affordable, ideal for daytime coastal sailing, fishing and water sports.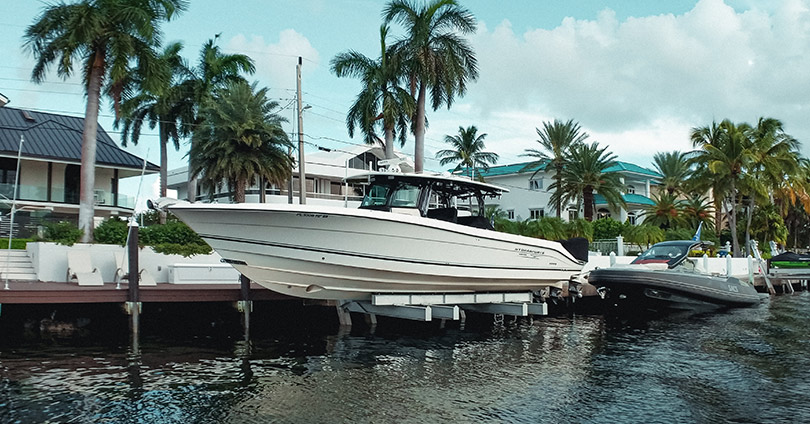 Dayboat
Day boats or day cruisers are small vessels, usually less than 6.5 metres long, with a small cabin. As the name suggests, the purpose is to spend a day or a weekend at sea. Its cockpit allows you to enjoy the sun. In terms of habitability, the day-boat cabin is sometimes equipped with a bunk and a small kitchenette, making it possible to spend a short stay on board.
Pontoon boat
It is the ideal boat model for water sports activities! The pontoon boat, or bass-boat, is in fact a floating platform with a shallow draught, designed above all for fun, with family or friends, on inland waters or in coastal areas, when the sea is calm.
Runabout
Easily recognisable, the runabout is a type of fast, sporty boat with a low, slender hull, usually powered by a petrol engine. It is designed for water-based recreation, such as water skiing or fast cruising on inland waterways or the sea. The Runabout is generally easy to manoeuvre and maintain, but can have high fuel consumption and can be noisy due to its motorisation.
Offshore speedboat
It is a very fast unit with a slender hull that can reach speeds of up to 50 knots thanks to a very powerful engine. The V-shaped hull of the offshore speedboat makes it possible to in calm or rough waters, while experiencing great sensations. On the other hand, it is a boat with less than optimal habitability and requires high maintenance costs.
Jetboat
It is a boat that is propelled by a jet of water, and its speed makes it particularly suitable for water sports. It is generally very manoeuvrable, easy to maintain, and can be used in very shallow areas. The weak points of the jet boat are, without doubt, a noisy engine and high fuel consumption.
Cabin boat or cabin-cruiser
As the name suggests, the cabin boats has a habitable cabin. Its hull is between 6.5 and 14 metres long and it is equipped with an inboard or outboard motor, with one or more engines. It is used for pleasure sailing, to sail for a day or more in a comfortable manner, mainly in coastal areas. There are also cuddy cabin boats, which are vessels with a hull length of less than 10 metres, with a very small cabin or landing in the forward area below deck. They are the ideal motorboat for water sports and day cruising.
Pilothouse boat
A typical fishing boat is a boat with a sheltered cockpit in what is called a wheelhouse. The vessel usually has sleeping accommodation, a kitchenette and sometimes even a small toilet. The pilothouse boat or pleasure fishing boat also has a large, airy cockpit without benches, allowing for day fishing. With an inboard or outboard motor, it is mainly used to navigate in coastal areas, although its great stability allows it to pass through rougher seas.
Trawler
It is a versatile vessel, ranging in length from 8 to 20 metres. Thetrawler is a comfortable unit, suitable for long voyages at reduced speed. Life on board is easy, thanks to the large interior spaces and the large water and fuel storage capacities. The trawler is generally used for coastal sailing, either for a day or for several days.
Cruisers / Express cruisers boats
With a hull length generally between 8 and 15 metres, the cruiser is a light and comfortable, versatile and often fast boat, which always has an enclosed cabin. There are different types of cruiser boats:
The open express cuiser, with a closed front deck and an open rear cockpit
The flybridge boat, with an upper deck with a steering console and sometimes an interior steering position.
The hard-top yacht, with a hardtop that can be opened.
The cruiser, or liveaboard boat, designed more to allow life on board.
The speedboat, for sea outings that mix sport and cruising.
All have a V-shaped hull and an inboard engine. The type of speedboat chosen depends on the sailing project. There are also dutch barge, which, as the name suggests, are designed to sail on canals and rivers. They are very popular in countries like the Netherlands.
Yacht
Highly regarded as the ultimate high-end vessel, the yacht is a pleasure craft distinguished by its luxury and elegance. They are large stars. They can be up to 100 metres long. Yachts are often used for luxury cruises, sea voyages or special events. The price of a yacht is often very high. It can range from 500,000 euros for second-hand yachts to tens of millions of euros for the largest yachts in the world.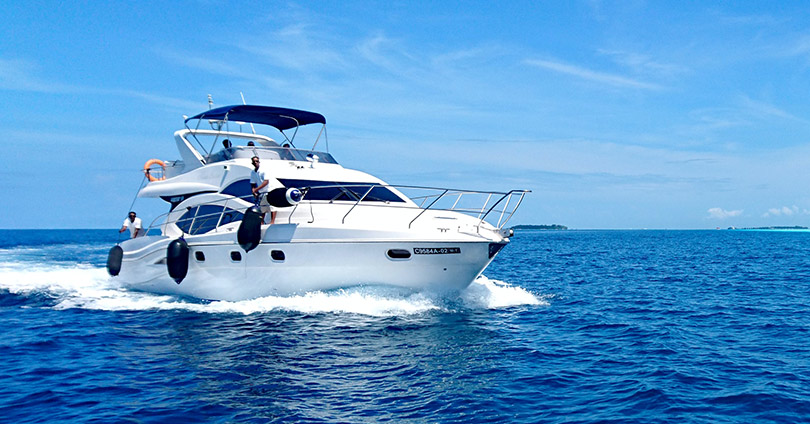 Houseboat barge
It is a river boat often used as a floating residence or as a pleasure boat for sailing on canals and rivers. It is a large and long type of boat, which allows for ample living space and comfortable facilities. They can offer a variety of interior layouts, with spacious living areas, bedrooms, a fitted kitchen and a full bathroom. Choosing to live on a houseboat can have several advantages such as peaceful living on the water, easy access to nature and a more affordable cost of living than in big cities. However, houseboats also require regular maintenance and special attention to safety due to the conditions of living on the water. The price of a houseboat varies according to age, size, location and general condition, but can generally be lower than a house in the city.
Fishing trawler
Initially dedicated to fishing, then redesigned to adapt to pleasure sailing, the fishing trawler is now a vessel adapted to long term cruising. The interior spaces are spacious and particularly well suited to life on board: there is generally a real kitchen, a real bathroom, common areas and well-separated sleeping areas. When sailing on a trawler, one benefits from great stability, reasonable draught and air draft. However, trawlers move more slowly than other lighter vessels, consume more fuel and often require more maintenance.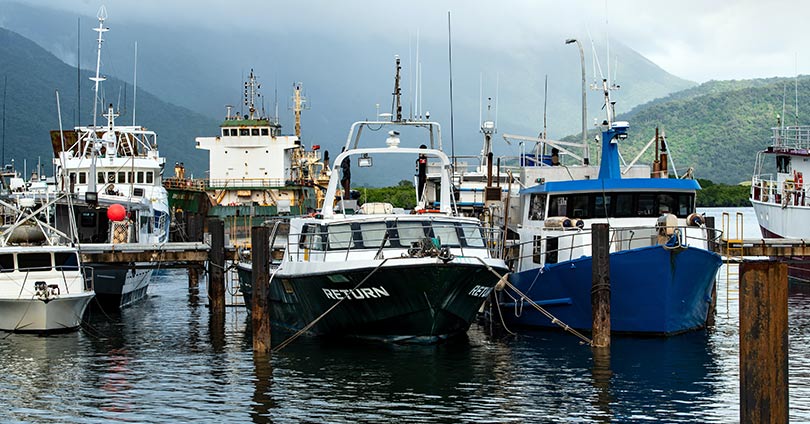 Barge
A barge is a flat-bottomed vessel, usually non-motorised and used for commercial or utility purposes, often for transporting goods.. A distinction is made between the splitting barge, which opens to unload what is contained in its central tank, and the myticole barge, which has a large storage capacity on its deck and can navigate in very little water. Barges are commercial vessels that can be used both at sea and on inland waters.
Power catamarans and trimarans
The power catamaran is a multihull motorboat with two separate hulls, connected by an upper deck. Like the catamaran, the motor trimaran is a multihull boat, this time with three separate hulls. On both types of power multihulls, the lower deck is usually dedicated to private spaces – sleeping and toilet facilities, while the upper deck usually contains the living spaces – saloons and cockpits. Motor multihulls are generally characterised by high stability at sea, and benefit from a shallow draft.
Different types of sailboats
When you want to buy a sailing boat, you will soon realise that there are many different types. Band of boats looks at the different types of sailboats and the sailing programmes that can be associated with them.
Become the owner of a sailing boat
Are you planning to buy a sailing yacht?
Check out our used sailing boats for sale!
Monohull sailboat
Sailboat types are distinguished primarily by their rigging: they do not all have the same number of masts and do not all carry the same sails. The main types of rig are as follows:
Sloop : a sailboat with only one mast, carrying a mainsail and a headsail.
Cutter : also has only one mast, but located further aft. It can therefore carry two headsails – the jib and the staysail – in addition to the mainsail
Le catboat: a sailboat with a mast set far forward, without shrouds or stays, and which carries only one mainsail
Ketch :a sailing boat with two masts – the foremast, or mainmast, and the bowsprit, inside the waterline.
Yawl : another two-masted sailing vessel, but with the aft mast lower than on a ketch and outside the waterline.
Schooner : still with two masts, but this time with a larger foremast at the stern.
A distinction is also made between the various monohull sailboats according to their ballast: a sailboat can be a full or ballasted dinghy, a keelboat, a lifting keel or a sabre keel. There are also twin keel yachts, those with a fin keel or those with a canting keel.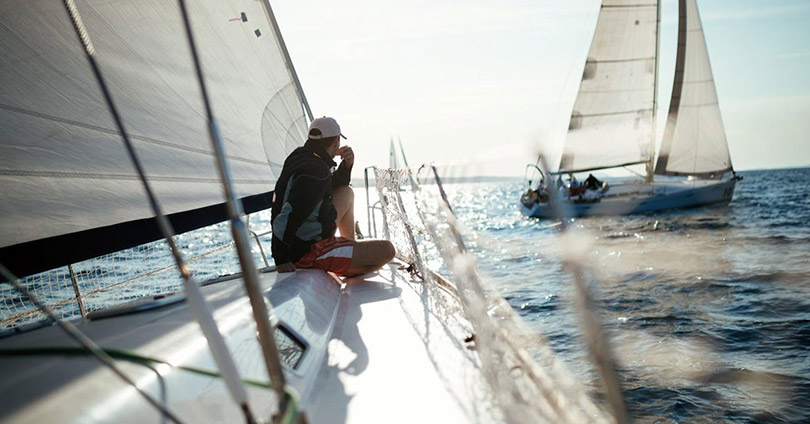 Here are some of the types of sailboats you can find on the market:
Daysailer
With a hull length of up to 10 metres, the day-sailer is a boat on which on-board comfort is reduced to the bare minimum. It is mainly used for day sailing. It is possible to envisage longer sailing trips, with a reduced crew, without much privacy.
Liveaboard sailboat
From 8 to 18 metres in length, the live-aboard yacht, also known as a cruiser, is equipped to accommodate a crew for up to several weeks. The water and fuel storage capacities on board are generally substantial. The facilities on board depend on the size of the vessel and, depending on the design category of the boat, it is possible to sail in coastal, semi-offshore or offshore areas.
Cruising sailboat
It is a heavier yacht, designed in a more resistant material, and therefore with a more robust hull. Designed for long voyages, the blue water cruiser is a safe boat, with a living space designed for life on board. The equipment on a blue water yacht generally includes a set of sails for sailing in all weathers, one or more solutions for producing energy on board, and sometimes a windvane gear.
Sailing yacht
Among all monohull sailing boats, from a hull length of 10 metres, we can speak of a "sailing yacht". A sailing yacht is a boat with a particularly comfortable living space, offering a real living area with several berths, separate cabins, a large bathroom and a kitchen area on board.
Classic sailing yacht
Most often built of wood, the classic sailboat is a piece of maritime heritage, usually unique, associated with the history of regatta sailing, the history of ocean racing or the early days of pleasure sailing. Classic yachts are often very elegant on the water, particularly admired, thanks to their narrow, elongated hulls and large overlapping sails.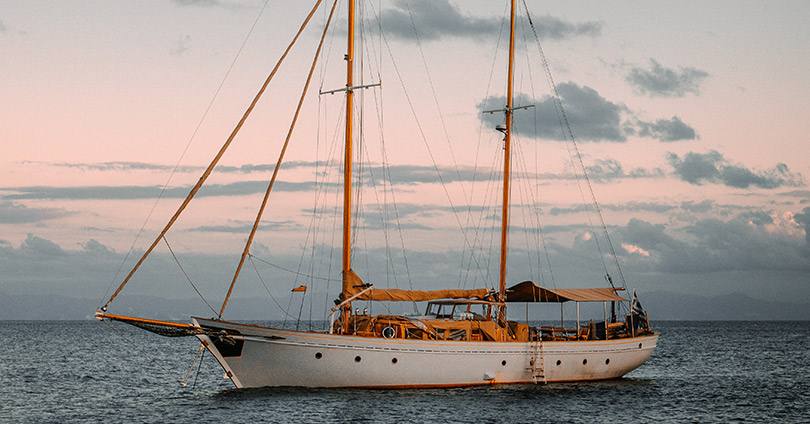 Belle Plaisance boat
The Belle Plaisance boat is more affordable than a classic sailboat, and is sometimes made in a few copies, whereas the classic sailboat is unique. The hull is also long and narrow and is often made of a less noble material than the classic sailboat, usually plastic. As with classic yachts, the headsails of Belle Plaisance yachts have a large overlap.
Catamaran
Catamarans are sailing boats with two hulls. They are very popular with sailors, especially for ocean cruising. Even though they are often used for a few days at sea or for long crossings, there are also small sport catamarans without a cabin. With their two hulls, these offer impressive stability, as well as a spacious and comfortable living space for the passengers. They can reach higher speeds than monohulls and are less prone to extreme heights. However, they tend to ride upwind less well, which can limit their manoeuvrability in certain conditions. The costs of purchasing a catamaran are generally higher than for monohulls, and the costs of maintenance and docking in ports are also higher.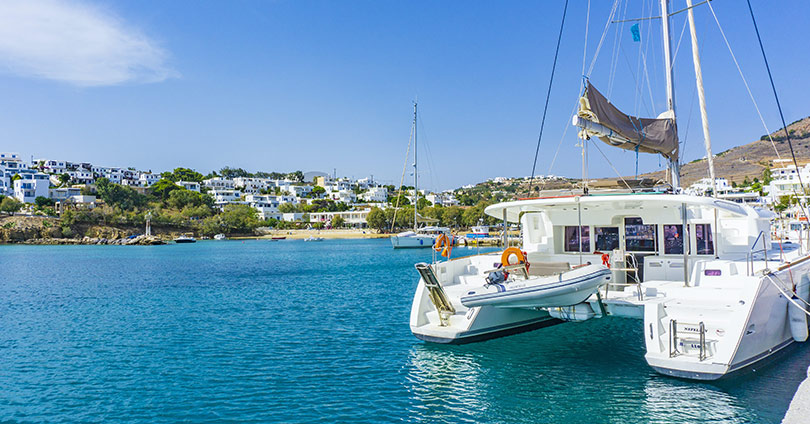 Trimaran
Trimarans are three-hulled sailing boats. They therefore offer even greater stability than catamarans. They are often used for yacht races because of their exceptional speed, but are also used for cruising. Indeed, there are small sport trimarans as well as large travel trimarans. Like catamarans, they offer spacious living space for passengers, with greater privacy in the private areas. Trimarans are also less prone to extreme heights than monohulls, making them a popular choice for sailors seeking increased stability. However, as with catamarans, the costs of buying a trimaran are generally higher than for monohulls, and the costs of maintenance and docking in ports are also greater.
2. How to choose the right type of boat?
Before choosing your dream boat, and to make sure you make the right choice, we recommend that you ask yourself several important questions
What is your intended sailing schedule?
What type of propulsion system do you want to use?
Who will be sailing with you?
When and how often do you want to enjoy your new boat?
In which sailing areas do you want to use it?
Do you already have a mooring solution for your vessel, such as a harbour or mooring facility?
How much money can you afford to spend on this boat purchase, taking into account possible future maintenance costs?
Once you have answered these questions, it will be easier to choose a boat that is right for you, whether new or used!
And if you're more interested in sailing boats, take a look at our guide to choosing the right sailboat.
What type of boat should I choose to start with?
If you want to start sailing a motorboat or sailboat, you will need to buy a boat that matches your skills. In addition to buying a boat that matches your desires, we recommend that you choose a boat that is easy to handle, in good working order, and at a price that is not too high.
We advise you to choose a motorboat or sailing boat that is less than 10 metres long, to ensure that you can handle it well. A boat that is easy to handle and reacts quickly will allow you to get the maximum feeling and to learn how to perform the main manoeuvres correctly. If you make a mistake, a boat that is not too heavy will forgive most mistakes! We can therefore recommend small dayboats, open boats, RIBs or sailing boats such as dinghies or small daysailers.
What type of boat should I choose to live aboard?
If you are considering buying a boat to live aboard, you will need to choose a houseboat that you will feel comfortable on. Think about the life you want to lead on board:
Do you plan to live only on board, in a sedentary way, and stay at the dock or at anchor? If so, what items and equipment do you not want to do without? What budget are you prepared to allocate to a berth or anchorage?
Or would you prefer to buy a liveaboard yacht to live and travel on? Do you plan to cross the Mediterranean, the Atlantic or the Pacific? Would you like to go on a round-the-world trip? If so, you will probably need to choose a cruising boat or sailboat that will allow you to fulfil your wish.
Finally, the choice of boat you make will also depend on the number of people on board. Do you want to buy a boat to live on alone, as a couple or with your family?
A boat to live alone
If you plan to live alone on a boat, a small boat or sailboat with only one berth should be sufficient. Lack of privacy should not be a problem! It's up to you to determine the conditions under which you plan to live on board: for example, do you want a fridge, a toilet or a shower, or can you do without?
A boat for family life
If you are a couple or a family, your needs will probably be different. You will need to consider more berths, separate living areas, but also more storage possibilities. A sailing yacht, a catamaran, a trimaran or a trawler will allow everyone to have their own space, and to be equipped like at home.
Which boat to choose for inland navigation?
If you are planning to sail on canals, rivers and streams, you need to choose a boat that is suitable for inland navigation. But you may be wondering what is best. The narrowness of some canals, the sometimes narrow locks or the height of the bridges in the area you wish to visit may help you make your choice.
We recommend that you opt for a manoeuvrable boat with a maximum width of 2.50 metres, a maximum draught of 1.20 metres and a maximum air draught of 3 metres. If you choose a boat less than 20 metres in length, you will be able to navigate in river areas with a boating licence, and will have access to port sites without any particular worries. Finally, if you want to be able to change navigation area easily, choose a boat with a size adapted to road transport. For example, barges, Dutch launches, trawlers, launches and small transportable sailing boats are good boats for inland navigation.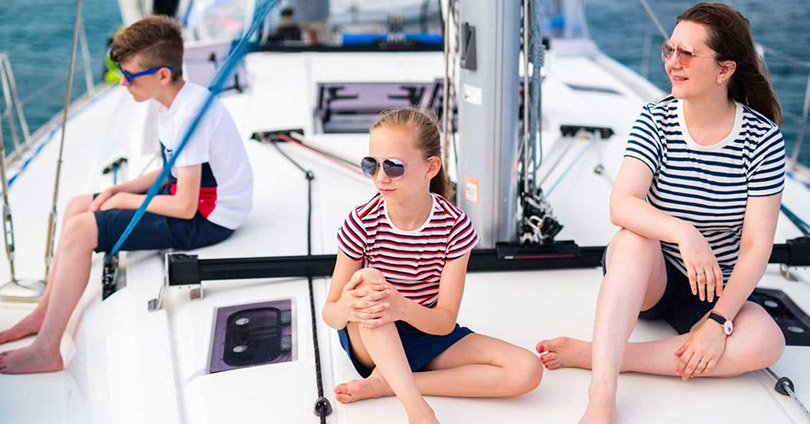 Interested in owning a river boat?
Check out our listings of river boats for sale
We hope that this article about the different types of boats will help you to choose the right boat for you. From now on, feel free to discover all our boat for sale ads and choose the boat of your dreams!