Sea fishing is a quintessential activity for all sailors, and even more so on board a boat. Are you about to embark on a fishing trip? Let us introduce you to the different types of fishing boats and find the one that suits you best.
1. The pilothouse: the ideal fishing boat
Pilothouses fall under the category of day fishing boats. Their strong points are safety, reliability, an uncluttered cockpit and a cabin to keep your fishing equipment safely stored and provide shelter in various types of weather conditions.
Pilothouse boats are ideally equipped for fishing, with high handrails to enable you to move around onboard in complete safety, wide gangways at the sides and lots of places for rod holders.
If you plan to drift fish at a relatively close distance to the coast, remember to check the skeg is in good condition, or get one fitted if your boat doesn't have one. This will prevent damage occurring to the motor and, more specifically, the propeller.
Fishing from the front of the boat in rough seas should always be avoided however!
Discover a selection of pilothouse models by Band of Boats. Amongst the most popular are those from one of Jeanneau's flagship ranges with the Merry Fisher 695, Merry Fisher 795 or the Merry Fisher 895. Feel free to browse through all the latest used boat ads.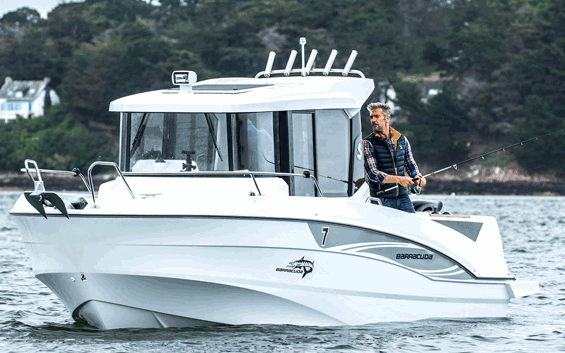 The Barracuda is a fishing boat from Beneteau. This pilothouse was developed especially for fishing.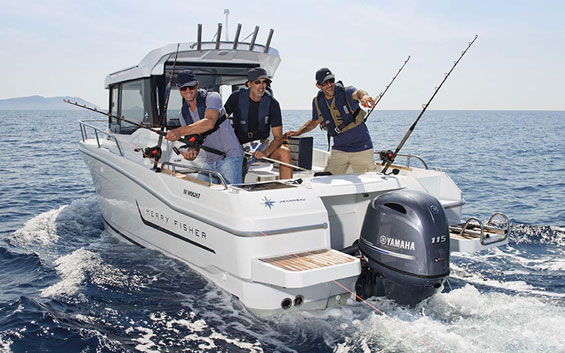 Jeanneau's Merry Fisher Marlin range of pilothouse boats is ideal for sport fishing excursions.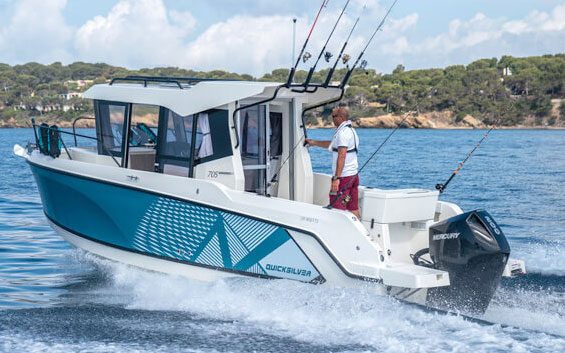 Quicksilver Pilothouse boats are specially designed and equipped for sea fishing.
2. The rigid inflatable, a "custom-made" boat
THE custom-made fishing boat. The ease with which you can move about on a rigid inflatable is its greatest strength. Moreover, a fitted roll bar turns trips on the sea into an experience of unmitigated pleasure. The rigid inflatable's outboard motor allows for easier maintenance and enables access to all areas of the water thanks to its low draft.
Models in the 7-10 meter range are also easy to transport by trailer, making them the ideal go-anywhere fishing boats. Additionally, it's possible to customise rigid inflatables with a range of accessories.
The slight drawbacks of these kinds of boats are the absence of a cabin and the relative lack of protection, which makes them less than ideal in rough seas.
To be used only for fine-weather outings!
In the cockpit, the starboard table accommodates 8 people, facing a couch that seats another two.
The raised helm to port is just three steps from the cockpit. Visibility is good when you're tall (but almost non-existent when you're sitting down and you're short!) and there's enough room for two crew members to work together with all the winches and instruments to hand. Lines lead to the cockpit, right into the hand of the helmsperson who can manoeuvre their boat on their own, thanks to the self-tacking jib.
The ergonomics are very good, you can stand up everywhere and visibility to the sails through the raising hard-top bimini is excellent.
On the other hand, there aren't any handholds on the opening roof and I dread to think of getting around in bad weather, on the rear hard-top bimini (where the mainsail track is mounted) which is slick as anything…
A special mention goes to the folding davits, which don't encumber the swim zone.
The selection of RIBs by Band of Boats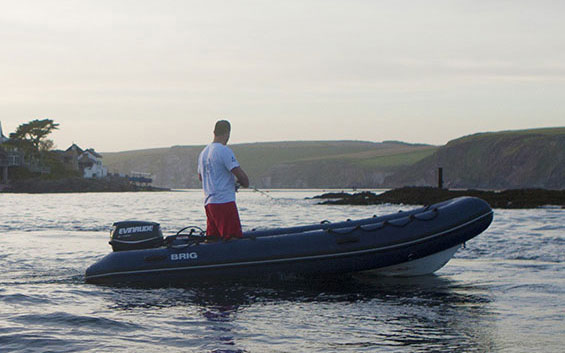 The Brig brand proposes semi-rigid boats adapted to fishing but also to scuba diving.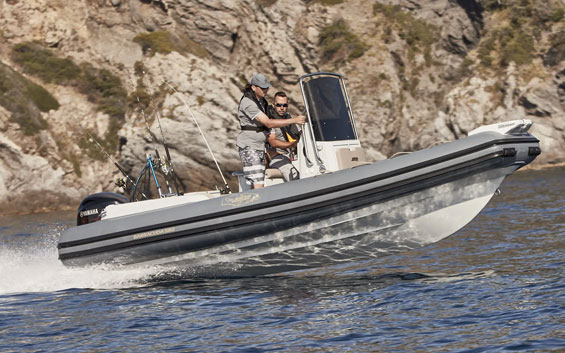 The Joker Boat inflatables have good sea keeping and are very spacious for fishing tours.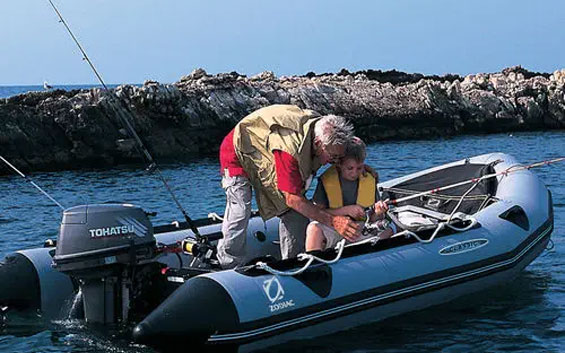 The emblematic brand of RIBs, Zodiac proposes safe and innovative inflatable boats.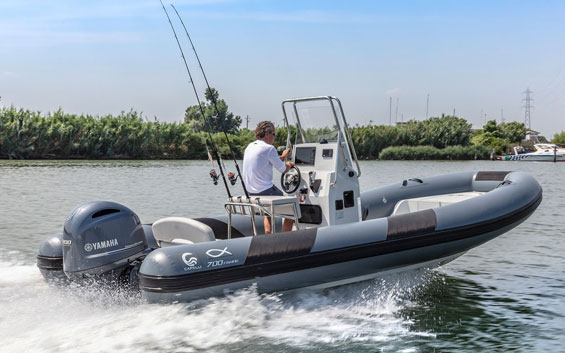 The Italian builder has created a fishing range dedicated to fishing activities among the Capelli Tempest models
3. Center console boats: comfort and fishing combined
Combine practicality with leisure and enjoyment. Center consoles are highly comfortable, with a vast amount of space available for the cockpit. They combine the safety and comfort of the pilothouse with the performance, easy maintenance and affordable pricing of the rigid inflatable.
Getting to different fishing sites has never been so pleasant, efficient safe and so easy in terms of handling and maneuverability.
The essential must-have boat for venturing further out to sea? Now that's another matter!
The selection of open hull boats by Band of Boats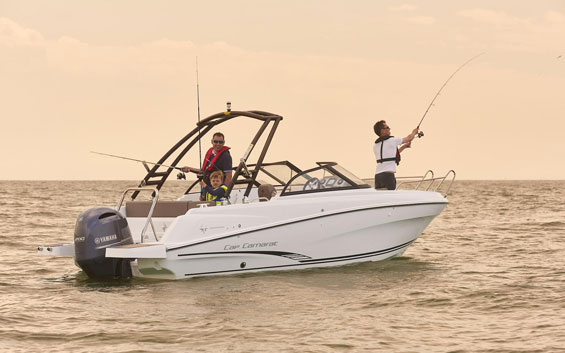 The Jeanneau Cap Camarat is one of the most popular open hull boats for sport fishing.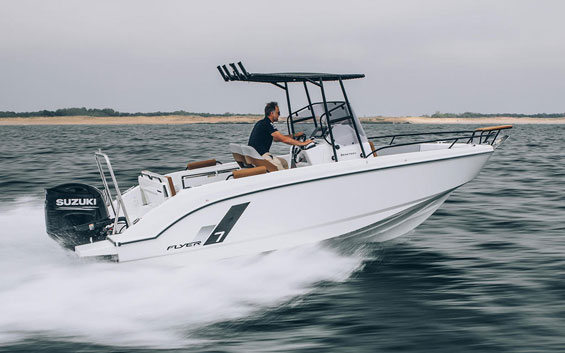 The Flyer Spacedeck from Beneteau are good partners for coastal fishing.
4. The versatility of a multi-programme boat for a successful sea fishing session
Is it a good idea to go for a boat to use exclusively for fishing? What about all the other benefits of sailing, such as family outings, water sports and sunbathing?
Would your family be happy to go with you on a pilothouse rather than a centre console or a small speedboat? When it comes to all-rounders, open express cruisers are still the ideal choice. Leisurely outings, fishing trips, weekends away, exploring the coast: express cruisers can do it all.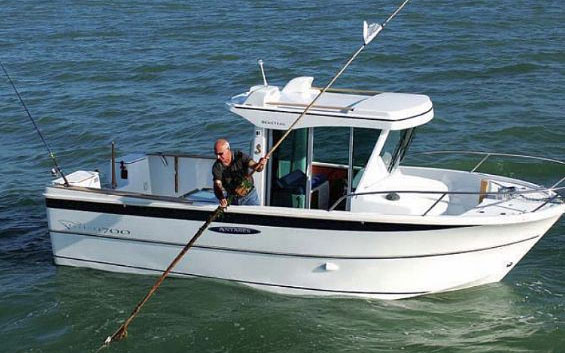 For cruising or fishing, Beneteau has built this multi-programmed pilothouse: the Antares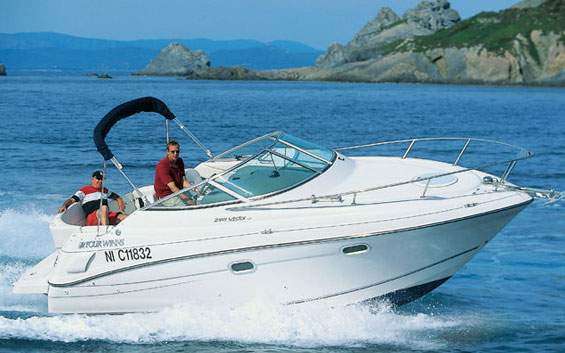 The Four Winns Vista are practical multi-programmed boat models for fishing or leisure.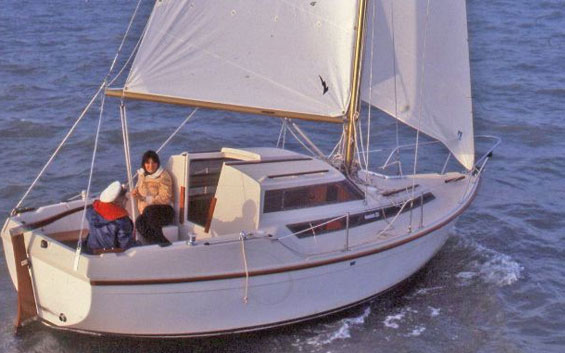 Sailboats with a powerful enough engine to be easily manoeuvrable and practical for fishing
5. Essential accessories for sea-fishing
Finally, and before heading out to sea, don't forget the essential accessories you'll need for a great fishing experience, i.e. rod holders, live boxes, a motor guard to stop the line getting tangled in the propeller, life jackets and the mandatory VHF radio for semi-offshore navigation.
Now that you know everything, Band of Boats proposes thousands of used and new boat ads, ideal to go fishing, isn't it! Buying a boat is a significant investment, and it's essential to consider the type of sailing you'll be using it for to avoid regretting your decision later. You need to choose a boat that offers the right combination of comfort and safety for the kind of fishing you plan to do!