Are you looking for a fast yet comfortable boat for exciting getaways? Can't choose between sailing boats, yachts and catamarans? Find out why a catamaran could be the ideal boat for you. Band of Boats gives you their tips about how to choose the right model for you:
1. What is a liveaboard catamaran?
Whether you're a sailor planning your next round-the-world trip or an avid yachter who likes to travel with their family, multihulls are the boats for you. Liveaboard catamarans have become very popular in recent years, offering a unique alternative for those looking to combine excitement and a comfortable experience at sea. With more catamarans for hire, many boaters have had a chance to try out the experience and make up their minds before taking the plunge and buying.
In fact, this type of sailing boat (or motorboat) can be used for long sea cruises, outings with friends or for recreational activities such as scuba diving or paddle boarding. With two hulls connected by a central platform, this boat gives youmore space than a monohull or trimaran of similar length. The interior volume and the large cabins provide the kind of comfort you would typically find in a houseboat. In addition, catamarans have lots of storage capacity, especially for water and fuel, which allows them to sail long distances. They are basically the ideal choice for day trips and world tours!
However, there are many models of multihull yachts on the new and second-hand market. Prices may vary depending on the length of the boat, the number of cabins, the condition of the hulls or the year of construction. Excess, Lagoon, Fountaine Pajot, Bali, Nautitech, Catana… There are many brands on the market offering a wide choice of services at different prices. Choosing a used catamaran may be the solution if you're looking for a lower price.
Become the owner of a multihull sailing boat
Are you planning to buy a catamaran? Discover sales ads for the Excess catamaran!
2. Comfort at sea
If you are planning a round the world trip or long sea cruises, the kind of comfort you can expect on board will certainly be one of the main criteria you should consider when choosing your sailing or motor catamaran. Starting from a length of 12 metres, a multihull becomes a real home at sea. There are plenty of models offering large living areas that are open to the outdoors and thus make for a more a pleasant kitchen or lounge area than you would typically find on a monohull yacht. The cabins are also more spacious as they are located in the floats, thus maximising the capacity for storage or sleeping space. It's essential to take this type of criteria into account during your search if you plan to work from your boat or live there with your family.
But comfort during stopovers is also a criterion that can help you make your choice. Several models have, for example, large trampolines or sunbathing areas at the top of the boat, which are important details when you want to enjoy the sun and the view. Do you plan to work remotely? Opt for a catamaran that can accommodate a work area in the owner's cabin so that you have somewhere quiet where you can focus. In terms of anchorages, a shallow draught is best if you want to venture into turquoise coves and get within a few metres of beaches or islands, so you can enjoy unlimited access to good spots for water sports!
The Excess 11 is a good compromise between a reasonable ship size and comfort on board. This entry-level model (in terms of size) offers spacious and flexible living spaces that are open to the sea. The emphasis is on quality details and volume in the cabins or living area! In addition, the cockpit layout means you can enjoy time with the crew while at the helm.
And the bonus extra: a sunroof so you can stargaze when night falls.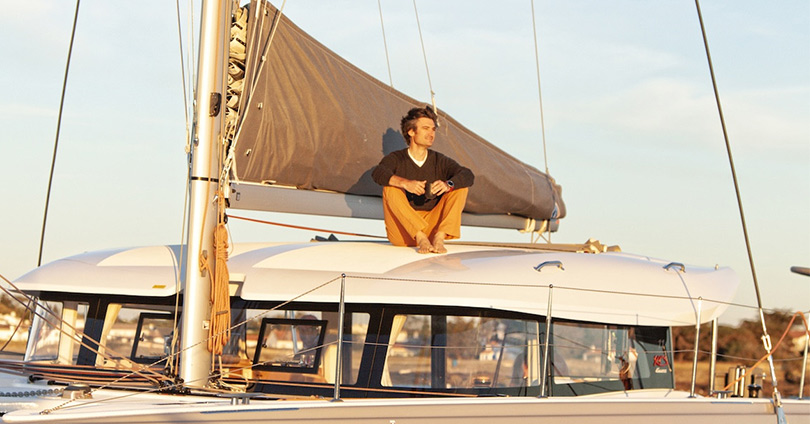 3. Handling
When you choose your cruising catamaran, it's important to evaluate how your prospective boat handles, especially if you don't have a skipper on board. Catamarans manoeuvre differently from monohulls and may require some familiarisation time if you usually sail monohulls. In fact, multiple characteristics such as weight, size, draught or sail layout will influence the boat's handling.
As safe as a trimaran, a larger catamaran offers more stability when sailing, which is ideal if any of your crew suffer from sea sickness! Catamarans with smaller sails are easier to handle, unlike boats with larger sails, which are often more difficult to control in strong winds for example.
The position of the cockpit also influences a catamaran's handling. A good view of the equipment on board and the horizon makes navigation easier. The Excess brand is innovative in this territory as they're designed with helm stations at the rear of the boat. This layout gives you direct access to the rudders and full visibility over the sails for easy sailing.
4. Performance at sea
Contrary to popular belief, catamarans can be faster than monohulls because of their shallow draft and width. Catamarans have a larger water surface area than monohulls, which allows them to glide over the water rather than through it.. This makes for a smoother and faster sailing experience.
Whether you plan to sail in France or abroad, the kind of liveaboard catamaran you choose will therefore depend on what kind of performance you want to achieve.
Are you a thrillseeker? Then opt for a long, light boat for the best results. With a length of 14 metres (depending on the options you pick), l'Excess 14 is a great choice if you're looking for a cruising boat with comfortable volume. Thanks to an innovative architecture combining a lower centre of gravity and a better distribution of volume, this sailing catamaran is designed for optimal cruising performance.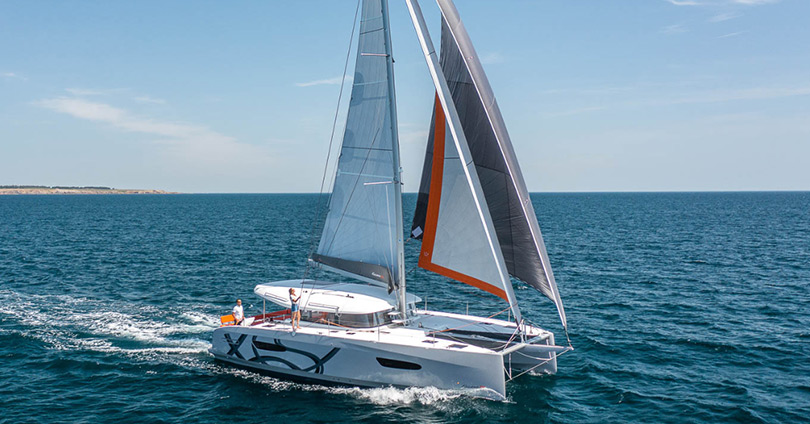 Become a catamaran owner
Are you planning to buy a multihull yacht?
Discover sales ads for the Excess catamaran!
5. Energy management
Energy management is key when it comes to choosing your catamaran. Catamarans are designed for long cruises. It is therefore essential to choose energy-saving equipmentefficient energy production systems. Battery life, on-board comfort, safety, environmental impact… All these elements can be optimised through good energy management.
There are already some good solutions available when it comes to equipping your sailing catamaran.Installing solar panels or alternative engines (moteurs électriques ou hybrides) are examples already used by many manufacturers to reduce energy consumption on board.
The Excess brand takes things even further and helps sailing enthusiasts design the catamarans of tomorrow. With its Lab, the brand has provided a unique platform for for launching prospective subjects and collecting owner feedback to co-construct cleaner and more responsible catamarans. Participants can suggest ideas for various topics such as energy, propulsion, performance, safety and connectivity. Other brands such as Lagoon, Fountaine Pajot, Bali or Nautitech offer solutions for reducing the impact of sailing environment, but Excess remains a forerunner in the realm of co-construction.
*This article is made in collaboration with the brand Excess
You may also be interested in these articles