GPS marine navigation apps have evolved considerably in recent years, offering advanced features and increasingly accurate charts. But with so many options available, it can be difficult to choose the one that best suits your needs. 
So we have compiled a list of the eight best GPS marine navigation apps for you, based on their accuracy and reliability.
1. What marine charting tools are available for sailing?
To navigate safely, you need the right marine charting tools. There are several available.
Marine charts: SHOM, the French leader
The sailing chart is the first marine mapping tool tool that comes to mind when talking about navigation at sea. It is a document that shows the geographical features of the coast, the depths of the ocean at different locations and the dangers for sailing.
The French Naval Hydrographic and Oceanographic Service (SHOM) is a major player in this field. It provides accurate and detailed charts for French and international navigators.
Maritime GPS: GARMIN, the benchmark for navigation
Maritime GPS uses satellite signals to help sailors find their location and navigate at sea. It provides information on position, speed, direction, distance travelled and remaining sailing time.
GARMIN is one of the leaders in the marine GPS market. It offers a wide range of equipment for boaters and marine professionals.
Mobile GPS nautical app: a practical and economical alternative
Mobile navigation apps with nautical GPS are a convenient and cost-effective alternative to traditional marine GPS. They can be installed on an Android or iOS smartphone, and use satellite signals to provide data on position, speed, direction and distance travelled.
Mobile apps are also equipped with nautical charts and provide information on tides and currents.
2. What is a nautical chart and how do you read it for sailing purposes?
A nautical chart is a graphic representation of the coastline, seabed, shoals and navigational hazards. It allows navigators to plan their routes at sea and avoid obstacles that could endanger their boats.
Nautical charts have existed since the 15th century, but their accuracy was very relative. It was not until the 17th century and the emergence of efficient measuring instruments that the first accurate charts appeared.
Over the years, more and more sophisticated tools have emerged to help sailors travel more safely.
A maritime chart has several uses. It allows you to locate ports, beaches, islands and other coastal features. It helps you to find out about the water depth, currents, tides and other sailing conditions. It also includes information on lighthouses, beacons and other navigational markers.
To read it, you need to understand the symbols and codes used to represent the different features of the coast and seabed. The colours and symbols used on the charts are standardised for ease of understanding.
When you read one, you should take into account the depth of the water, the direction of the current and the strength of the wind.  You should also consider the weather phenomena (storms, hurricanes, etc.), as these are factors that can change sailing conditions at sea.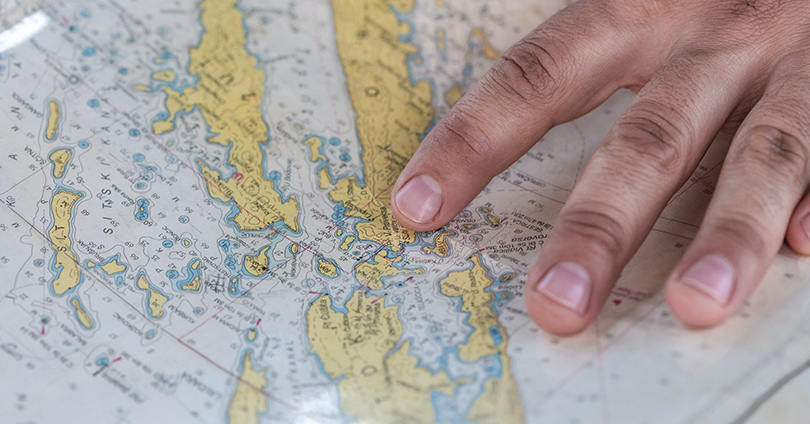 Connect your boat and sail with a free mind
Remote monitoring, realtime alerts, maintenance recommendations…
With Seanapps,ease the maintenance of your boat and always keep an eye on it!
3. Why use a marine GPS app?
The reasons for using this app are many and varied. It ranges from route planning to safety to real-time performance monitoring.
For assistance in planning your route
An app with marine GPS allows you to plot a route in real time using a suggested route from point A to point B.
For real-time position tracking
This software usessatellite signals to allow you to track your position in real time.
For real-time monitoring of performance
With this app, sailors can track their performance in real time, including their speed and degrees to the wind (vmg).
The GPS app for boats is an essential tool for safety at sea. It allows mariners to avoid dangerous areas, to prevent collisions with other vessels and to accurately report any problems (MOB-man overboard).
More regular updates than paper charts
The GPS nautical app is updated more regularly than paper charts. It is updated regularly to provide real-time information on navigation conditions.
The option of installing it at the bar and consulting it at any time
One of the main reasons for using a chart app is the option of installing it at the boat's helm. Unlike paper charts, the app allows navigators to keep track of their positionand progress easily.
Seagoing GPS apps have more advanced display options than paper charts. They offer more detailed information on ocean topography, weather conditions and navigation information.
They also allow you to zoom in on a specific area for detailed information. The different display options (satellite display, relief shading display) allow navigators to better visualise coastal areas and ports.
It's much cheaper than an on-board GPS (mfd)
A marine GPS plotter app is often than on-board GPS systems. It offers almost all the features of an on-board GPS, making it an attractive option for navigators looking for an affordable and efficient solution.
It is easier to integrate third party data
A sea mapping app enables you to integrate third party data (tide data, marine weather, port information). This data is extremely useful for planning a route, but also for finding ports and parking spaces nearby.
Connect your boat and sail with a free mind
Remote monitoring, realtime alerts, maintenance recommendations…
With Seanapps,ease the maintenance of your boat and always keep an eye on it!
4. What are the disadvantages of a GPS marine navigation app?
The use of this software is not without consequences. Explanations.
The app is not linked to on-board equipment
It is not directly connected to your on-board equipment. It cannot therefore use the data from the sensors on board to optimise their accuracy.
The software is not connected to the radio (VHF)
The GPS marine navigation app is not directly linked to VHF radios. This can cause problems if there is an emergency or when communicating with other vessels.
The smartphone containing the software is at risk
Smartphones are not designed for use at sea, as they can be damaged by salt water or impacts. In addition, navigation security may be compromised if you lose the phone.
GPS marine navigation apps consume a lot of power, which can cause problems with their battery life at sea if there is no power source on board.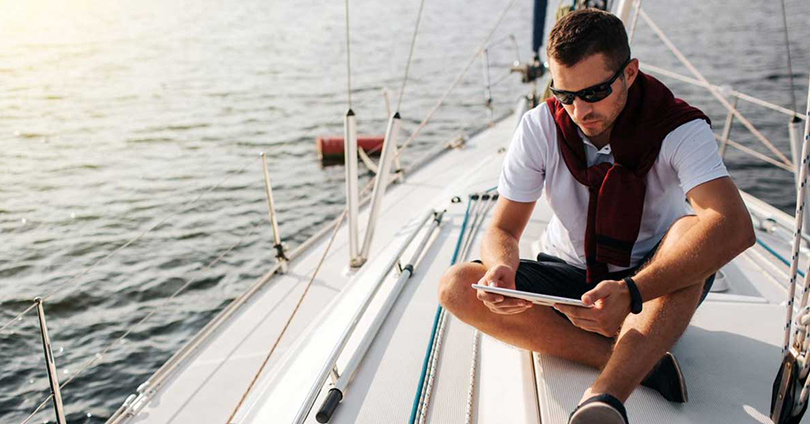 5. What are the best GPS navigation apps with a marine chart? Our TOP 8
Here is our selection of the best GPS navigation apps with a marine chart.
Navionics (owned by Garmin))
Navionics provides detailed nautical charts, tide and current information, and depth data. It also enables you to record routes and tracks, set anchor alerts and access advanced trip planning tools. 
Navionics has both a free version and a paid version, with additional features such as a 3D view and advanced mapping for fishing.
C-Map/Embark (owned by Navico)
C-Map/Embark allows you to create custom nautical charts. The smooth interface makes it easy to identify important details, create routes and add personal locations that you can share with friends.
Aqua Map offers detailed nautical charts, advanced trip planning features and real-time routing assistance.
Marine Traffic is a free app that uses open source charts to display the positions of ships around the world in real time. It also offers trip planning and weather monitoring features.
Navigation – Routing – Weather | SailGrib WR
SailGrib WR offers a full range of features, including weather forecasts, tidal and current information, and open source charts.
iNavX is the world's number one marine navigation app. It has an advanced chart plotter and can create waypoints and plan routes. It is also equipped with anchor and AIS alarms, as well as a port search/navigation aid function.
qtVlm is a navigation and routing software for sailboats, and has a free mode with limited functionalities and a full paid version. It enables you to display and use all the advanced functions for gribs.
OpenSeaMap is a global nautical chart project that collects free, geolocated nautical information. You can find this chart on the website or download it for offline use.The data is largely from OpenStreetMap.
There are a wide variety of GPS marine navigation apps with various features. Choose the one that best suits your navigation and safety needs.
Connect your boat and sail with a free mind
Remote monitoring, realtime alerts, maintenance recommendations…
With Seanapps,ease the maintenance of your boat and always keep an eye on it!
You may also be interested in these articles