After first making its way into the home, smart technology has now recently been introduced on board boats, as well as across the wider boating industry in general. There is a wide range of solutions and devices available to connect your boat to the web, and they offer significant benefits. Discover four good reasons to invest in a smart-enabled, connected boat:
1. Make your boat safe and secure against nasty surprises
Safety and security are undoubtedly the main reasons owners go for the smart-boat option. Break-ins, theft, leaks… There are so many anxiety-inducing concerns for boat owners that can be kept in check through remote monitoring via smart technology.
With an alarm system, for example, you can be notified in real time when something abnormal occurs on board. A GPS tracker is an unbeatable weapon against theft, both helping you find and locate your boat and discouraging thieves. TheSeanapps mobile app takes things even further, allowing you to define a custom mooring zone so you can be alerted if your boat becomes detached from its mooring – very useful for putting your mind at ease after a violent storm for example!
Do you rent your boat out to recreational boaters? A smart, connected boat also protects you by providing additional assurance and security in case of damage occurring during the rental. Everything is kept recorded and stored in a mobile app and can be easily accessed from the quayside during the rental period.
2. Plan and prepare your trips out to sea in advance
Heading out to sea? Whether you're a novice sailor or an old hand, these kinds of trips are not something to simply improvise as you go along. It's essential that your boat is in good condition to avoid your cruise being spoiled by unpleasant surprises once out at sea.
Fuel levels, engine and battery condition, water tank levels… Equip your boat with smart technology and all this info can be checked from your smartphone! No more going back and forth to the pontoon: you can simply identify potential equipment failures before they happen and depart the harbour with complete peace of mind.
Once at sea, home automation also comes into play on board, optimising your comfort at affordable prices. Setting the temperature, turning the fridge on, activating the air conditioning, switching the electricity on… All electronic devices can now be operated remotely, maximising your cruising comfort and allowing you to fully relax from the moment you arrive on board.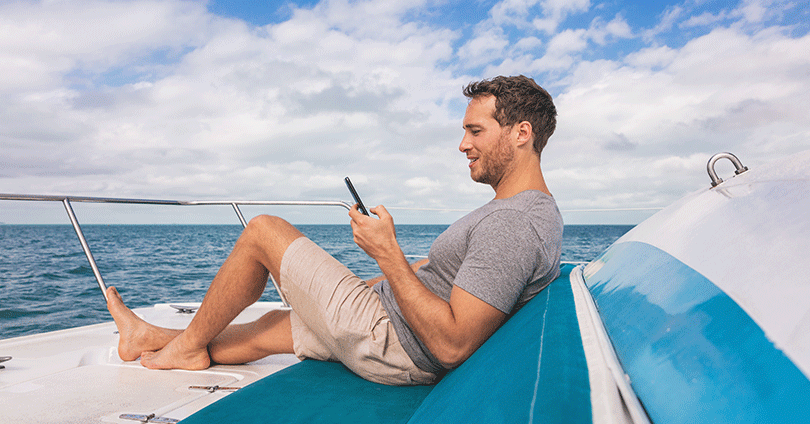 3. Measure and share your sailing and navigation achievements
Who hasn't dreamed of being able to share their achievements at sea with their friends and loved ones? Whether you're a speed freak or a long-distance sailor, smart, connected boats allow you to record and document your performance at sea (maximum speed, average speed, distance covered, depth, etc.) and your trips on your phonethus offering a real plus when it comes to measuring your sailing progress, saving your cruise itineraries, and sharing your exploits with your friends once back in the harbour!
Sail with a complete sense of freedom by smart-enabling your boat
Remote monitoring, real-time status alerts, maintenance recommendations…
Facilitate the task of maintaining your boat and keep a constant eye on board with Seanapps!
4. Maximise your chances of selling your boat
Smart-enabling your boat is also a way of planning ahead for when you come to sell it. Smart devices actually make it easier for you to provide evidence of the condition of your boat's equipment to a potential buyer. Smart, connected apps can, for example, keep a complete history of the maintenance carried out on board. The resulting data serves as a direct indicator of the good condition of your boat, which is something many buyers are looking for.
The Seanapps app not only offers you this possibility, but also takes things even further. It enables any owner to store a complete history of the maintenance tasks carried out on their boat on their smartphone. These tasks are defined, established and adapted based on how the boat is used, thus ensuring that the equipment is always in optimum condition. You'll also be alerted about any upcoming or overdue maintenance work required. The task of managing the boat is thus simplified and centralised on your phone screen, providing genuine time-saving benefits for owners!
Smart-enabling your boat is also a way of giving it a differentiating advantage that few other boats have! This is because there are still few boats on the second-hand market equipped with this kind of technology, despite the fact that the number of smart, connected models and smart products is increasing each year. Investing in smart technology will therefore enable you to differentiate yourself in this very competitive market when it comes to selling your boat.
Seanapps: the mobile app that connects your boat online!
Innovative products designed to connect boats to the web have flourished in the sailing and navigation market over the last few years, but the Seanapps app stands out for the comprehensiveness of the control experience it offers.
Not only does this mobile app allow you to access your boat's data remotely on your smartphone, but it also provides a direct link to your dealer. This is very useful for reporting issues or planning when your next maintenance operations are carried out. The system works by means of a mobile app combined with a central box that collects data and information from sensors.
Whether you sail all year round or just during the summer months, Seanapps will enable you to keep a constant eye on board your boat. GPS positions, onboard equipment levels and statuses, engine data, water presence sensor, sailing history, service requests… The list of features is long and ensures complete respect for the privacy of the app's users. This innovation technology is already installed as standard on boats from Beneteau, Jeanneau, Prestige, Excess et Lagoon.
However, Seanapps also offers this same level of functionality to owners of second-hand boats too via its special Retrofit Pack. This comes in the form of a box that can be installed on all kinds of pleasure craft, regardless of their model or age, thus making it suitable for all boat owners! Whether you own a RIB or a state-of-the-art yacht, Seanapps' innovative technology adapts to your needs and provides you with useful, customised data. Installation must be carried out by a certified professional however.
Sail with a complete sense of freedom by smart-enabling your boat
Remote monitoring, real-time status alerts, maintenance recommendations…
Facilitate the task of maintaining your boat and keep a constant eye on board with Seanapps!
You may also be interested in these articles