Rearranging the interior of a boat is often enough to make it more comfortable and welcoming. If you have just bought a used boat, these tips can help! Decorate the interior of a boat and match design, comfort and functionality. This article will give you some ideas for an easy renovation without spending a lot of money.
1. Refitting your boat by optimising storage space
For certain secondary boat interior refits you don't always need to call in the professionals. You can in fact do some cheap renovations yourself with a little ingenuity and a few good tips. Roll up your sleeves and get out your toolbox… let's go!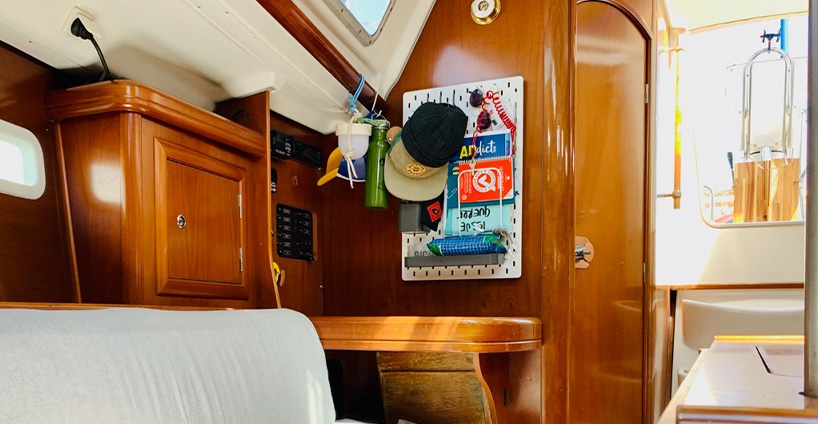 Without committing yourself to a total overhaul, you may want to start by renovating a few things inside your boat. Opting for furniture with rounded corners, making fittings as functional as possible or adding shelves and drawers to every nook and cranny to cut down on lost space are just some of the arrangements that will make your life easier once at sea.
A fridge with drawers enables you to compartmentalise storage and keep things cooler.
Wooden, melamine or metal tableware will prevent breakages once on the water.
To store fruit and vegetables and prevent them from spoiling prematurely, you can use nets that you can hang up in the kitchen.
Become a boat owner
Discover now the ads of new and used boats for sale!
2. Customise and revamp the interior of your boat with a little paint
Just like the interior of an apartment or house, when it comes to decoration, it's worth considering repainting certain surfaces. You don't have to of course, if the existing colours and materials suit you as they are. But in some cases, a lick of paint can give your boat's interior a new look, enabling you to personalise it . Giving one or two wooden surfaces just a simple coat of varnish will bring a touch of charm and authenticity to certain spaces.
However, repainting surfaces using white or pastel tones will make them brighter because even when there are a lot of portholes, they are often narrow. Light-coloured walls or ceilings will also help to optimise the light sources
To keep things looking warm and cosy, why not repaint a section of the boat in the colour of your choice? Adding touches of paint here and there will harmonise and brighten up the whole interior. Cupboard frames, finishing strips, handrails, fold-out tables, handles or even shelves are all elements that you can opt to repaint.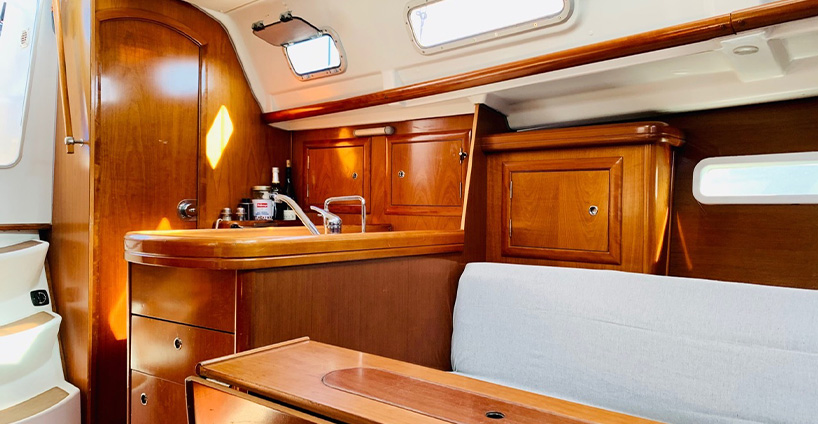 Want to renovate a sailboat?
Discover our ads of sailboats to renovate
3.Decorating the interior of a secondhand boat: fabrics
Curtains, bed linings and cushion covers are all opportunities to refurbish the interior of a secondhand boat and customise it more to your own liking.
Les éléments en tissus
First step: measure the benches and bunks so you get the right size of mattress. This is a good way of making your secondhand boat more comfortable as well as a good option for replacing parts that are sometimes worn out by the weather. Once all your foam mattresses are ready, give them zipped protective covers made of waterproof fabric (this makes newly purchased items last longer).
Then choose sheets and fabrics in a soft and durable material (linen or cotton) that you can cut to the right size to cover the mattresses and benches. You can select either bright, neutral or pastel colours that match the colours you've used on the rest of the boat interior. Then opt for the bedlinen of your choice.You can make a cabin with dark wooden walls brighter using light-coloured bedlinen. On the other hand, if your walls are white, why not go for warm or dark coloured sheets to make the space more welcoming? Just like at home, you are advised to keep a spare set of bedlinen, so that you can rotate it while you wash the others.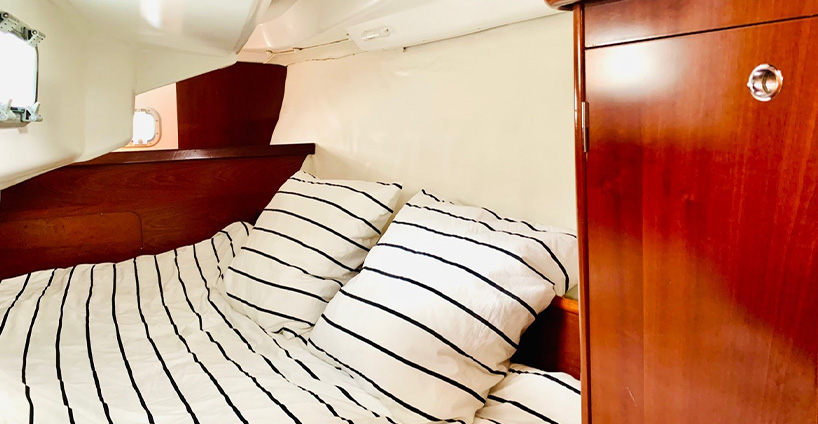 Cushions are another decor option you should capitalise on! As backrests or to frame a bench, they are both useful and decorative. Again, you should give them waterproof, zipped covers. You can then choose a fabric in the colours and patterns of your choice and sew it to the right size.
Extra tip: get two sets of covers, so that you can wash them regularly
For curtains, start with some porthole-sized cords, which you can attach with small open hooks for when you want to ""pull the curtains"". Depending on your preferences, you can then choose fabric of varying degrees of opaqueness, based on how much light you want to pass through, if any. As for colours and patterns, go wild! Be careful though not to overload the whole design scheme and to try and keep a sense of consistency with the rest of the decor you've chosen.
And why not a few frames!
The last little touch to decorate the interior of your boat and make it look like this: add a frame or two! Choose an illustration, a nice photo or why not a poster of a nautical event you attended. Choose a lightweight frame with Plexiglas glass and fix it securely to avoid a disaster during a turbulent navigation.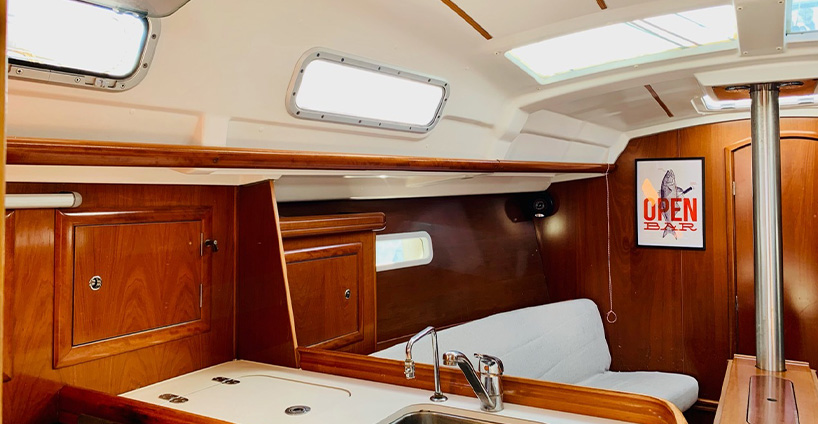 We hope you find these tips useful.
Feel free to leave a comment with your best ideas for a boat interior.
You might like these articles: