You like boating, and to you, boating means water sports! You really enjoy waterskiing, wakeboarding or tubing with your friends! But you need to choose the right boat for those exciting times! Band of Boats bends over backwards to help you.
1. The first boats designed for water skiing
Typical boats for waterskiing tend to be boats that sit low in the water with a flat bottom, the aim being to glide on the water to reach a high speed quickly. The MasterCraft brand represents this type of boat. Today,any motorboat capable of reaching 20 knots quickly can be used to pull skiers. More and more manufacturers are offering sport versions of their models, equipped with a ski pylon or wakeboard tower. (Example Flyers Sportdeck from Beneteau).
2. How to choose a boat suitable for water sports?
Small, more manoeuvrable boats are more suitable for skiing on calm waters. They are light when unladen and use ballast to direct their wake. Bigger boats with a more pronounced wake, on the other hand, allow you to perform jumps with the wakeboard. Above all, to select your model, you must answer four basic questions:
Do you want to participate in water sports just for fun, or competitively?
What body of water will you be on? Magnificent Lake Annecy, or the soft lapping of the waves on the Mediterranean?
How many people will you take on board to admire your exploits?
What is your budget?
Band of Boats will let you think about it. In the meantime, we will show you three separate categories of boat to give you a better idea of the pros and cons of each one with regard to water sports.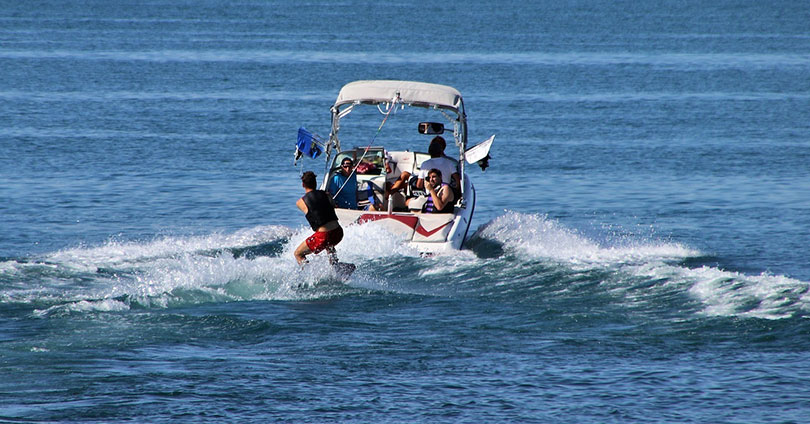 3. RIB inflatable boats
Semi-rigid boats are equally comfortable on sheltered waters or at sea. With a 90 HP motor for a model from 5 to 6 m, you can already get some thrilling sensations. The wake remains flat, however, so you can forget about wakeboard jumps. Another major advantage: their capacity, thanks to their excellent ratio of weight to submerged surface. The ideal boat for outings with friends on a relatively moderate purchase budget.
The Band of Boats favourite: ZODIAC PRO OPPEN 500.
4. Outboard boats
Outboards can also provide a good introduction to nautical leisure activities. Their V-shaped hull lets you reach a good speed and cut through the waves, even in rough seas. The advantage of the outboard is its versatility. It can adapt to fishing trips or coastal navigation. They also feel more secure, especially with children on board.
The Band of Boats favourite:BENETEAU FLYER 6 SPORTDECK.
5. Inboard Bowrider
Finally, Inboard Bowriders are most often used for water sports. Their propulsion system allows you to better centre the motors for a more constant wake. They have comfortable seating at the front, open onto the cockpit and the rear deck to simplify the skier's entry into and recovery from the water. An opening windscreen facilitates access between the forward and aft cockpits. An inboard motor is also recommended for pulling a wakeboard in order to avoid any interference with the propeller.
The Band of Boats favourite:FOUR WINNS HORIZON 290.
6. Light sailing boats
This time there's no engine, but the sensations are still exceptional! Lovers of sports sailing will advise you to choose a sports catamaran for leisure or regatta sailing. A sports multihull will provide some great moments of solo or shared sailing, thanks to its speed and power. It's also an ideal first boat for learning to sail.
The Band of Boats favourites: See ads for sport catamarans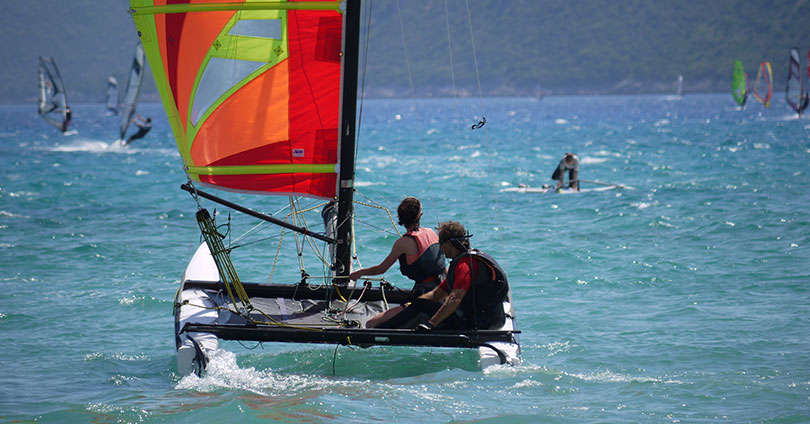 On the other hand, if you prefer freeride, we recommend you take a look at the jet ski. And for a reasonable budget, opt for the occasion.
We hope these tips will help you find the type of boat that best suits your needs.
These articles may interest you