It was no small challenge to update the First 30, which has sold more than 1,000 units since 1977. The First 30 JK, of 2010 vintage, was created by combining the experience of Michel Desjoyeaux and the drawing board of Juan Kouyoumdjian, one of the most prominent designers on the Volvo 70 circuit.
1. The First 30 JK: a construction designed for racers
With a very contemporary hull shape and sail plan, the First 30 JK has the enlarged stern that characterises its generation. The two rudders at the ends of the very wide transom, the hard chine just above the waterline and the bright colours all emphasise that this isn't just a simple restyling but a brand new model…
In terms of rigging, the First 30 JK features a gaff rig, a sturdy backstay and a genoa with a big overlap, a long boom, and a carbon bowsprit and mast (optional). 63m2 of sail area upwind for a weight of 3,750 kg makes it light and sporty!
Underneath, and invisible from the port, there is a fin keel that has been positioned quite far forward. It is made of cast steel and lead, with a "torpedo" bulb that has also been moved far forward for an equally far forward centre of gravity.x000D_
The construction method is classic for Beneteau, comprised of sandwiched balsa and polyester fibreglass for the decks, and fibreglass and polyester for the hull.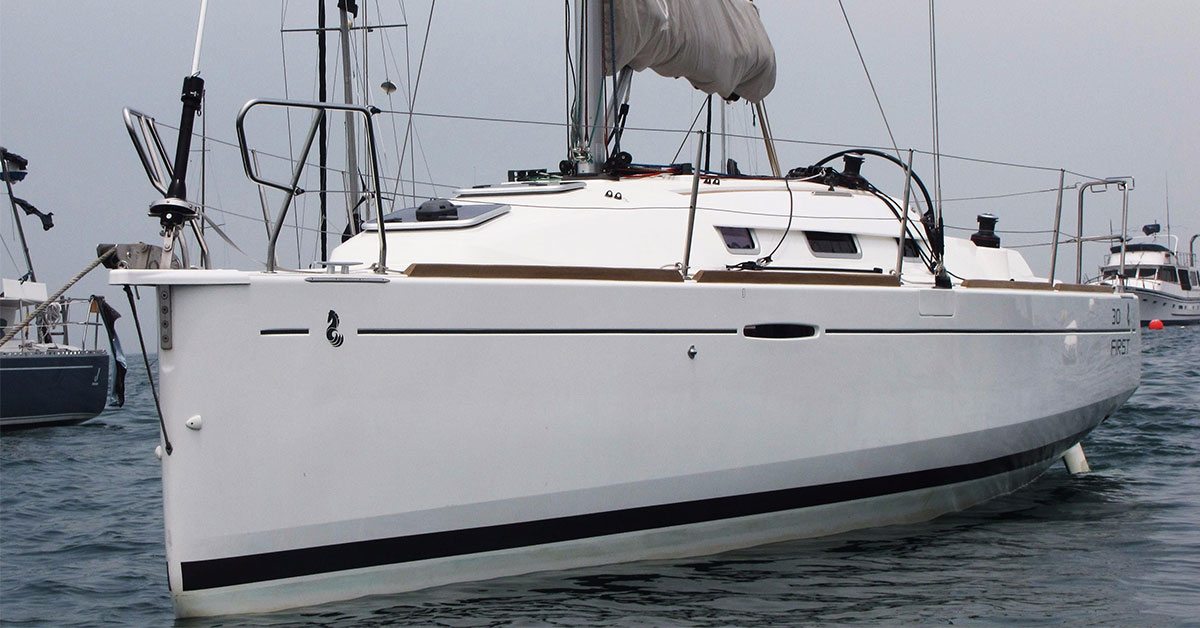 2. The spacious and welcoming cockpit of the First 30 JK
Once on deck, I instantly note that it's comfortable at the helm (tiller) of this boat, both standing and sitting on the boat's benches or using their backrests. The tiller extender means you can choose any position.
The controls are within easy reach, with a special shout out to the clew track that runs behind the helm.
There is a fine, regatta style manoeuvring section and the deck fittings are very generously sized.x000D_
The First 30 JK's cockpit has a very open design and lends itself easily to cruising, leaving the benches for lounging and the aft of the cockpit to manoeuvring.
The raft is stored in the cockpit in its own special locker. I also like the huge starboard locker which can easily contain a dismantled tender and its engine. You're certainly not talking about dinghies with a First!
The side decks provide easy access to the bow where you will find a decent anchor winch with an electric windlass and the bowsprit…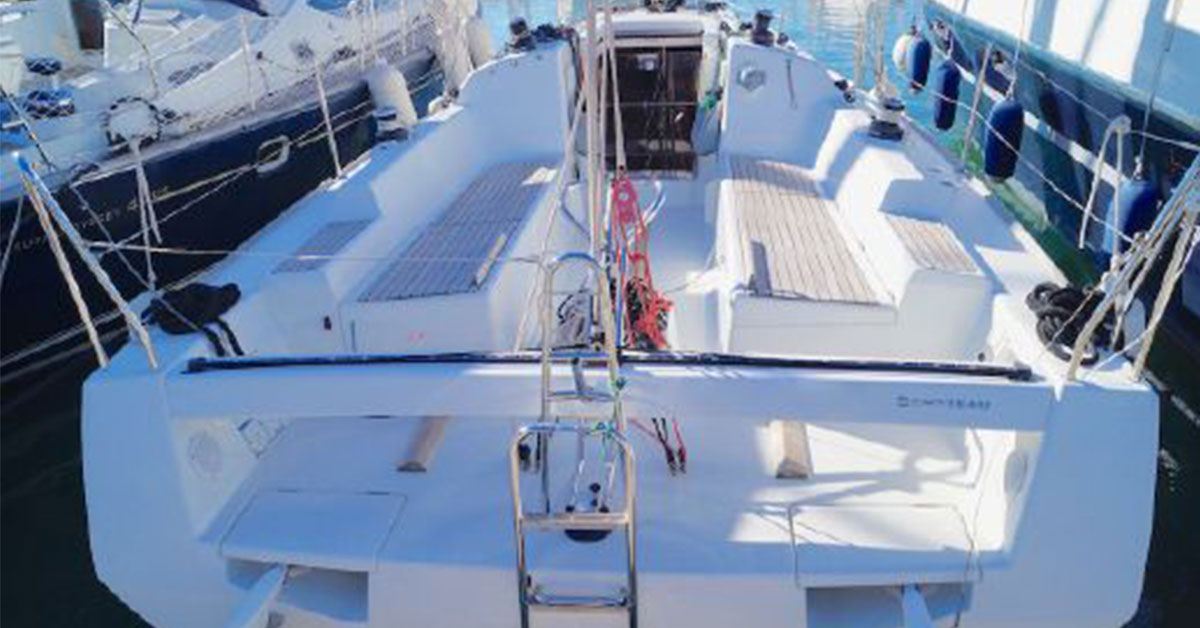 3. The First 30 JK has a luxurious interior
The interior has a light palette (Alpi Teak Clear finish) and looks more like a family cruiser than an Imoca… The kitchenette to port is minimalist with just two hobs and no oven and isn't exactly lavish with the storage compartments, and also leaves something to be desired with the microscopic chart table to starboard and its rather ridiculous seat… The shower room has grab handles and a toilet facing the gangway, which is nice when the boat's going fast.
The headroom is still slightly less than that seen in the brand's coastal cruisers, which is understandable. Special mention goes to the saloon table which, although solidly made, can be left ashore when racing. You need some space to take jibs, solents, storm jibs, spinnakers, and so on with you
The general impression is much more "cruising" oriented than on more typical sailing boats like Djangos pu RM's.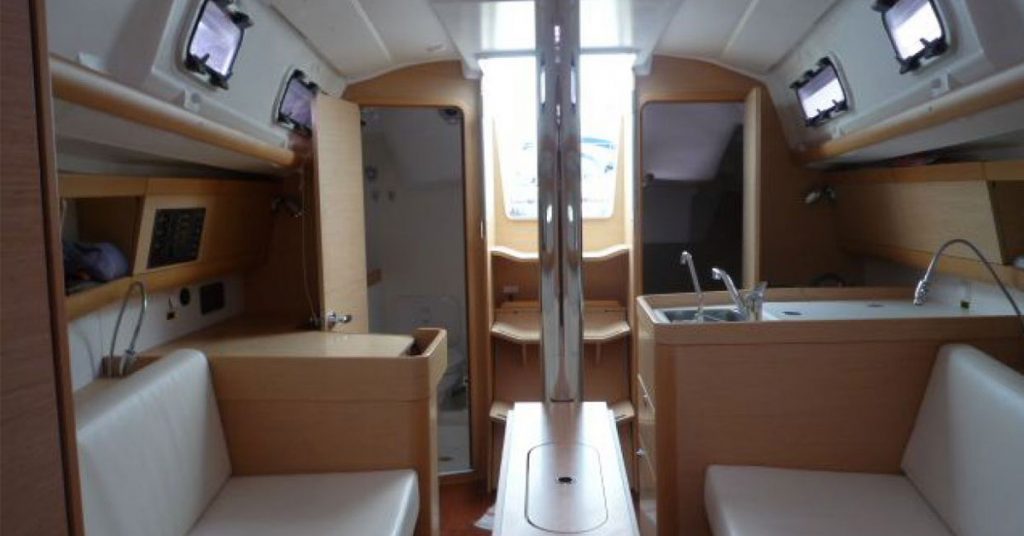 4. Some nice berths, from a distance…
At first glance, the berths seem generous, but when I try to fit all six-foot-two of me into them, I get stuck. It's impossible for me to sleep in the saloon or comfortably in front. As for sleeping two of you, dream on.
The aft double berth appears to be quite large, but there is a large drop-off which considerably reduces its starboard liveability at shoulder level. Again, it's hard to imagine a couple of adults accommodated here with ease.
You can get to the 20 HP engine from all sides, but you can't exactly say there's plenty of room!
One of the boat's good points is that the bilge pump intake strainer can be moved dependent on whether the boat is sailing to windward or leeward.
5. What's it like to sail a First 30 JK?
There are two of us starting from Cavalaire, France on our trial of this First 30 from 2013. We would have liked more wind than the 15 knots we started out with, but let's not be picky, the sun is shining and the temperature is perfect (24°) for an April weekend !
When I head aft, I realise that the because the rudders have been placed so far back, it strongly reduces torque, which I could have done with for getting out!
The engine enabled us to get to 7 knots at 3,000 RPM and appears to be just the right power to suit the weight of this Beneteau First 30. Even if it's a sports cruiser, sometimes you have to be able to get back to port in a hurry! There's no problem getting this baby out of the port, or hoisting everything a few moments later.
It's a real treat to be able to helm this 4-tonne toy with hardly any effort. With 15 knots (with gusts taking us to 20), we're a long way off the First 30 JK's limits and it is really proving its mettle. We easily exceed 9 knots with 15 knots of wind at more or less 90° to the wind. We trim the backstay and play with the traveller to get maximum power. It heels a bit, but you just have to knock it down a notch to say goodbye to a cold sweat.
It also works very well upwind, in any case much better than an older 45F5 that we literally fly by. With 15 knots, close-hauled, we're up to 6 knots.
The helm is very balanced, I can sometimes let go of it and it's soft with precision steering – a real delight.
Going all out, we get 11 knots every time and 12 and 13 with the waves, which is sheer joy.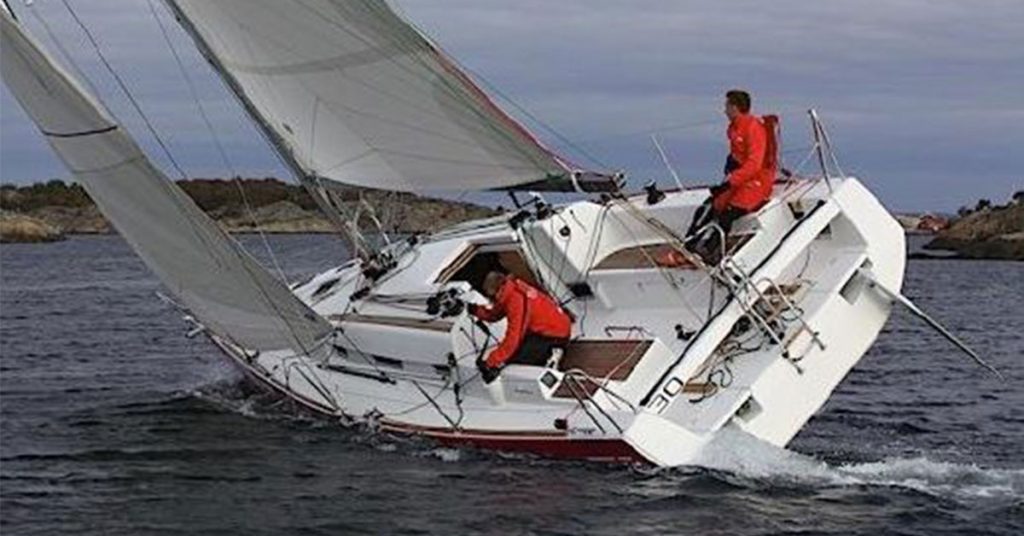 6. In conclusion
Very much at its ease in IRC races but versatile enough to be used for coastal cruising, the First 30 JK is a perfect union of two worlds.
So, yeah, the berths are a bit of a squeeze, but it sails super well!
Discover all our First 30s among our used and new boats ads, and become the owner of this Beneteau boat yourself.
Trial review written by François Meyer.