At Bavaria, the best seller is the Bavaria 37 Cruiser. Since the launch of this range in 1994, this gorgeous, well-finished Bavaria 37 Cruiser has been attracting an ever-growing number of customers.
Even though this latest version has gained a ton compared to the 1994 version, the Bavaria 37 Cruiser is a very well-finished cruiser, and is pleasant to handle and live on, all at a very reasonable price.
1. A sailboat designed by a Star
Designed by Bruce Farr, who is famous for his winning designs in the America's Cup, the Vendée Globe, the Volvo race, and the Whitbread, the new Bavaria 37 Cruiser has a look that's all its own.
Is it the wide swim platform (the widest on the market according to its designers), its long sloping roof portholes or the dark trim, which is also slanted, and which runs along its hull from back to front? It's hard to tell. Anyway, the model I'm going to try out looks great.
2. The largest platform of the 37′ world!
I walk onto this famous, generously sized platform and I discover the twin helm stations, white lacquered composite wheels, which fit well into your hand.
To starboard, the engine controls are extremely unusable and cannot be read standing upright as they are mounted so low, which is a shame when manoeuvring the engine, because generally standing upright, and having the throttle lever at hand, the way it is on multihulls, is not a luxury. It's a pity, because the Bavaria 37 Cruiser is relatively powerful with a Volvo 28 HP Sail Drive.
The folding table is made of wood and gives the impression of both solidity and beautiful workmanship. It's a fact that Bavarias stand out from the crowd for the quality of their cabinetwork. This impression is confirmed by the magnificent companionway door with its teak frame and polycarbonate glazing, and which stays where it is so you don't have to store it somewhere inconvenient.
The cockpit lockers are deep and have a strong jack to keep them open.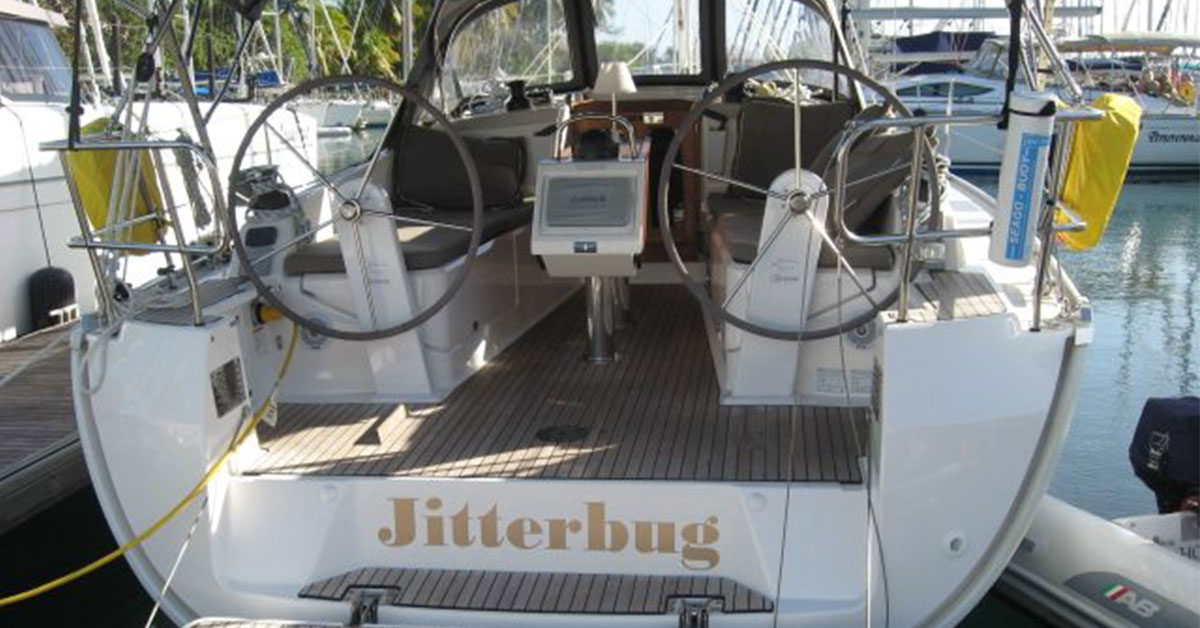 3. The Bavaria 37 Cruiser is seriously equipped
The GARMIN instrumentation is clear, and on our boat we have a Raymarine GPS Plotter, interfaced with the Garmin system with NMEA 2000. You see the wind in the plotter. There is also a Fusion audio system, which can play MP3s, streams things via Bluetooth and plays many other electronic formats.
In terms of the deck and rigging, this yacht features some hefty Harken winches and rails, a Selden mast and boom and Elvstrom Epex sails.
Our boat has a semi-battened mainsail but also a double mainsail system (German style) which is very practical because it enables you to control the mainsail from any winch or side. At the front there's a self-tacking jib that isn't exactly amazing, but there's also a Code Zero on a furler.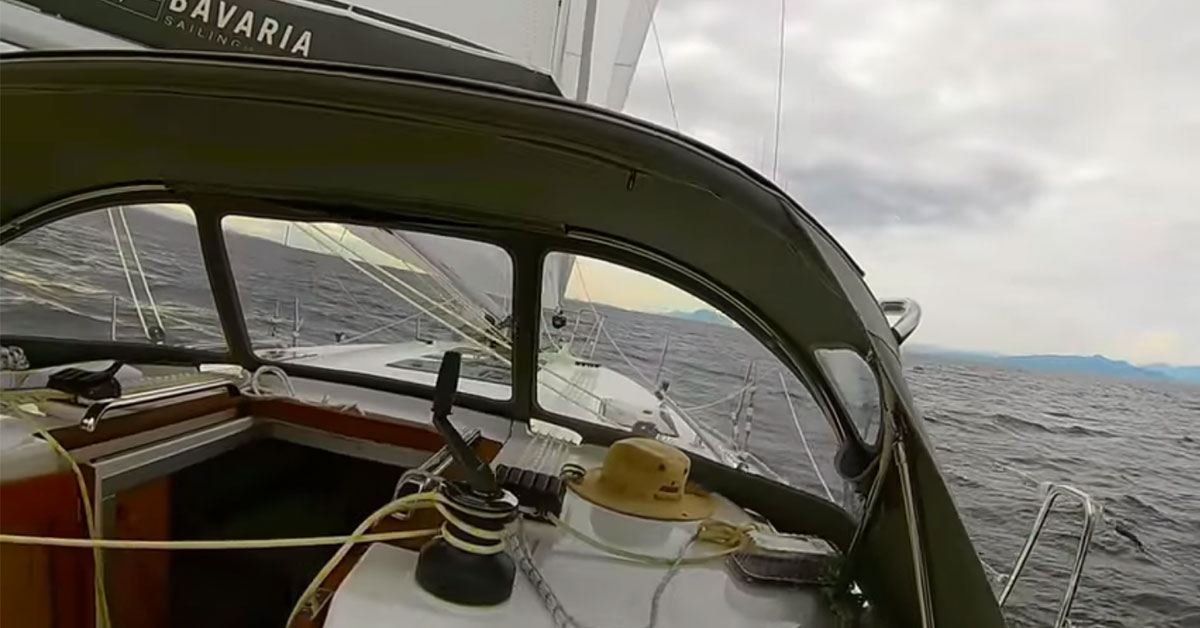 4. The high-class cabinetwork on the Bavaria 37 Cruiser
Belowdecks, you will find first-rate quality woodwork. Nothing creaks or squeaks, even on a slightly rough morning like this. There are sturdy handrails running everywhere that fit perfectly.
The galley to starboard has all the storage space you could need and has a stunning grey Corian worktop. The port side of this 2-cabin version features a clever folding chart table which, when not in use, folds away behind a hatch.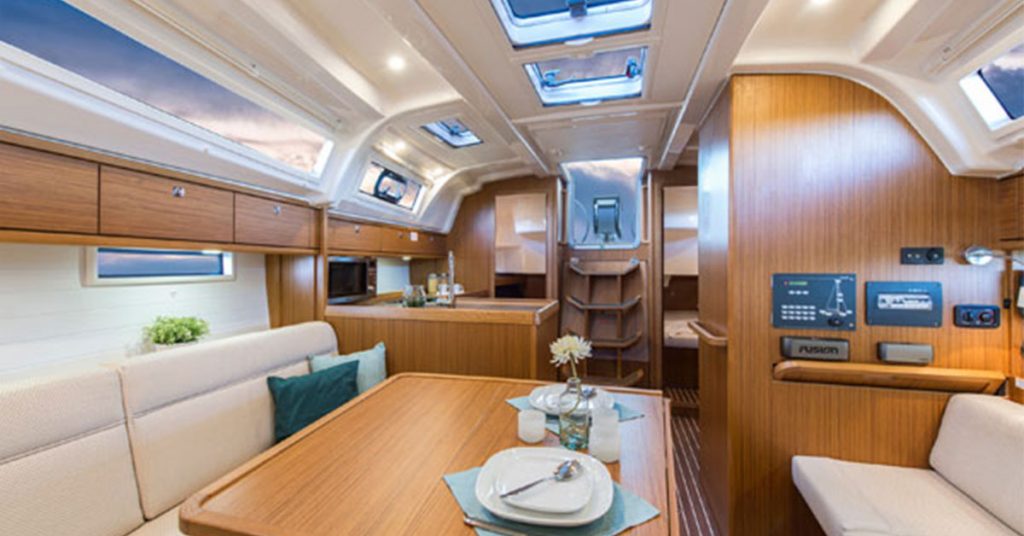 On the same side, you'll find a bathroom with a shower and a shower screen, which theoretically means you won't get everything wet every time you use it. I'm slightly sorry about the loss of the initial generation's waterproofs closet, but it's no longer fashionable… No doubt the designers think that we're happy to sail in our underwear in Brittany in March or that nobody is bothered by watching their soaked sailing jackets dripping merrily onto the floor…
Notably, the aft cabin has very good headroom, because I can stand there comfortably (6'3″).
I forgot to mention that isophthalic resins are used for the outer skin of the hull. These resins (IPA), without being perfectly watertight (only the gel-coat makes them waterproof), considerably reduce the risk of hull osmosis.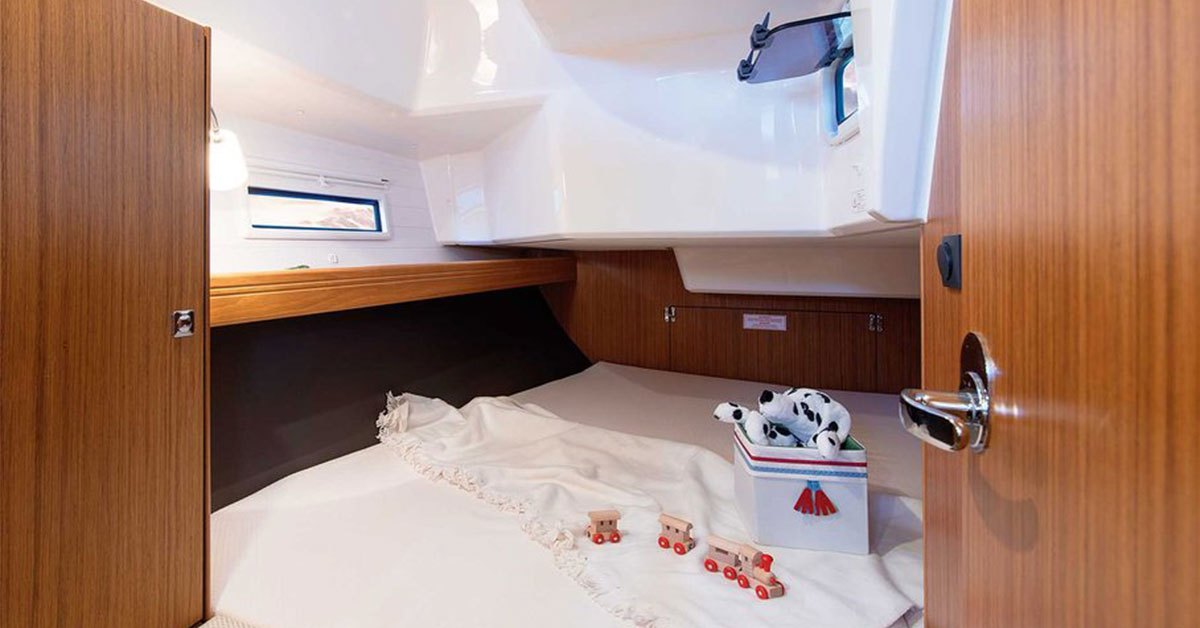 5. Sailing with a Bavaria 37 Cruiser, sea trial
Back on deck, it's time to get going. It's just me this morning in Cannes trying out this gorgeous boat. The friend who should have joined me missed his plane. I have to say that the rigging configuration (German-style mainsail and self-tacking jib) suits me just fine, even if the dealer next door is sceptical about it…
There is not much wind, and I agree with him to do just an hour's journey away and back, so that I can be sure of a helping hand on the quay on the way back.
There's no question of ruining a new boat, even if it's about to join its Caribbean charter fleet… The 29 HP Volvo engine effortlessly carries the 7.5 tonnes that the boat weighs this morning away from the quay. I leave the marina and head west, hoisting the mainsail.
When the weather is nice, I have my own technique: With the engine running forward at a low speed, I face the boat into the wind and set the autopilot to this.
I appreciate the easy access to the piano and get the mainsail hoisted in a jiffy. I take over, stop the engine and unfurl the jib. As soon as it starts to luff, I come about and then I ease it to accelerate.
In this morning's 10 knots NNW, the boat easily picks up 5 knots downwind.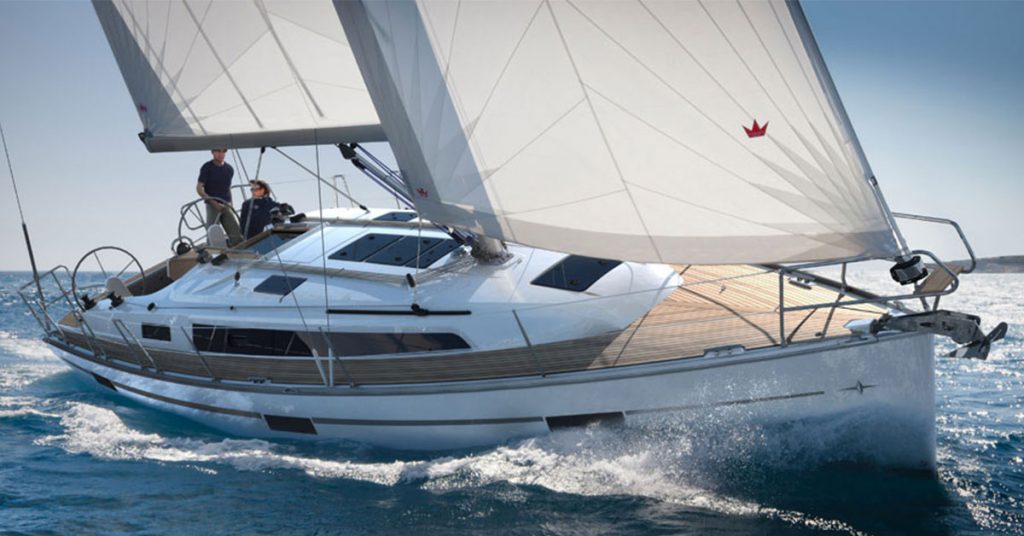 Even at this speed, the helm commands are instant, thanks to the double rudder, and the feedback is excellent.
It's time to tack now, which is a piece of cake with this self-tacking jib and the mainsail's double hoist. When sailing upwind, you don't need to touch the jib sheet to switch to upwind on the other side. Only the mainsail needs taking in from the helm station, and it's a real pleasure. I'm beginning to understand why people like this kind of rigging, you can simply forget about manoeuvring the headsail, when you're on your own, it makes sense.
Upwind the boat is very stable, the heel is measured with everything on top and 12/14 knots of wind.
As I lower it, I realise that the jib doesn't have a huge surface area and that the boat seems to be slightly under-canvassed. But then again, it has a Code Zero for these speeds, alas, although I've tried to use it on my own, I'm going to tread carefully, and not damage anything on this Bavaria 37 Cruiser, which is a truly beautiful boat….
Find the boat of your dreams among our thousands of used or new boat ads on Band of Boats !
The article was written by François Meyer