Boats ads work very well online and mean you don't have to wait for an annual event to go right ahead and purchase your boat. But the end of summer is approaching, heralding the start of the boat show season, a period that has been always historically been important to both boat sellers and buyers for decades. Is this the right time to buy a boat and how should you proceed? We will guide you in this article.
1. When is the best time to buy a boat?
Whether you're looking to buy a new boat or a second-hand boat, you've probably already wondered when the best season is to buy a boat. You may have scoured the nautical forums to find out what other buyers think, or browsed the sailing press. Band of Boats is no exception to the rule, because the time when boat sale ads are most frequently posted online is the end of summer.
People often say that the best time to buy your sailboat or your motorboat is when autumn is on its way. And most people in the international sailing scene are aware that autumn is the season when all the boat shows begin!
The Cannes Yachting Festival kicks everything off at the beginning of September followed closely by the Grand Pavois show which is held in La Rochelle. Hundreds of new boats are brought along for sailing or motorboat enthusiasts to view. This is a real opportunity for prospective boat owners to see the newest arrivals from nautical manufacturers and how the boats look in real life. Acquiring a new boat during a boat show is a good idea because it means you can equip it and customise it to suit you during the winter months. That means it will be ready to sail as soon as the good weather returns.
As for secondhand boats, private boat owners have had a chance to sail during the summer period. And they've discovered that their boat no longer completely suits their sailing style or what they enjoy. Many boat owners therefore want to sell on their boat to buy a bigger, more powerful one or even try another model or type of boat. Boat shows with secondhand boats are really worth visiting and we would recommend Le Mille Sabords for the Atlantic coast or the Occasions du Multicoque for the Mediterranean.
Boats won't yet be winterised or the sails won't have been taken down yet if it's a sailing boat. It's therefore a good time for buyers to visit a boat that is still fully equipped and ready to sail. You can even request a sea trial to test the boat in real conditions.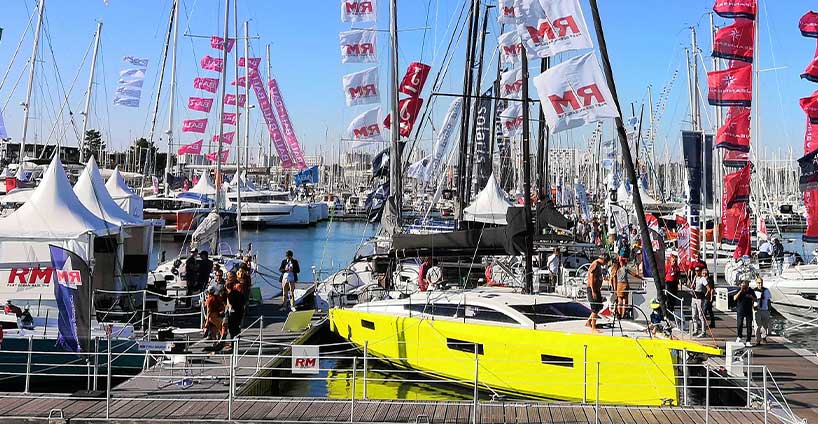 2.Why go to boat shows?
From the start of autumn, boat shows are the kind of must-visit events that all boat enthusiasts have attended at least once in their lives. Boat shows have been welcoming, sociable gatherings for sailing enthusiasts for decades and they're the perfect benchmarks for future boat owners. Whatever the reason you're buying a boat and no matter how experienced you are, it's always helpful to go to these events with enthusiasts and professionals from the nautical world so you can stock up on advice and information.
This is the perfect time to compare different boats due to the variety of boat types and models on show! So make the most of these annual events where small 5 m boats rub shoulders with 40 m yachts. A trip to a boat show also means you get the opportunity to meet lots of boat sale professionals and you can talk to boat dealers face to face. This means you get the benefit of several different viewpoints as well as valuable advice about your future boat purchase, whether you're new to it all or not.
Of course, what would a boat show be without visiting the actual boats! Make the most of any chance you get to go on board those particular boat models that interest you. It's a good way to get an idea of the space on board, so you can finetune your search. If the opportunity arises, give the boat a try to see how it sails and find out if the boat is suitable for you in operation.
Last but not least, as well as boat builders, there are also engine manufacturers, equipment manufacturers, fittings manufacturers and other nautical professionals there. You will certainly appreciate being able to see every angle of your future boat purchase.
One final advantage that should convince you to go to a boat show is the fact that you may find some special prices at these shows.
3. Preparing to go to a boat show
Clearly outline your boat purchase project! And yes, you have to be smart to really capitalise on your boat show trip. You will obviously not be able to see all the boats at a show.
If you're clear about what kind of boat you want in the first place, it should make your boat show experience easier.
Working out what you want in a boat pretty much follows the same lines as when you browse boat ads on the internet:
What kind of sailing you plan to do, as well as how you're going to use your boat and how often
Your budget (remember to put a bit extra aside in case you want to add options or renovate it)
Your experience

You certainly have a few boat models or brands in mind. List them and prioritise them according to how well they fit your boat expectations and check list.

Then start your research online. Look for boat listings that interest you and compile a list of your favourites. You can do this on the Band of Boats boat buying and selling site. Go to your account and save ads of boats that fit your checklist by adding them to your favourites list.

This list will give you an overview of the boat models that interest you. You'll be able to compare them more easily. Remember to check if the boat sellers for your saved ads are exhibitors at the show you are going to. If so, feel free to send them a request for a visit or an appointment. By booking slots in advance to meet exhibitors, you can easily organise your day.

Once your list is finished and your appointments scheduled. Come up with a list of all the questions you want to ask. Don't forget, it's now or never if you want to get advice and compare the feedback from sailing enthusiasts. Remember to bring a notebook to take notes on the day itself. You can also check your Band of Boats favourites list on your smartphone if you need to see details about a boat or an ad that interests you. Last but not least, feel free to take photos during your visit. Boat ads sometimes omit details that may be important to you (electronic or optional equipment for example).
Other articles you may be interested in