Replacing the Sun Odyssey 39i, the Sun Odyssey 409 from the Sun Odyssey range, launched in 2011, is a sports cruiser, designed to be sailed by a reduced crew. Over 300 of them were built and it won European Yacht of The Year 2011 hands down. The size and the controls that have been fitted nearer to the helm station are why I chose this monohull for a new 21-day cruise in the Lesser Antilles in the summer, a period with hectic weather full of tropical depressions…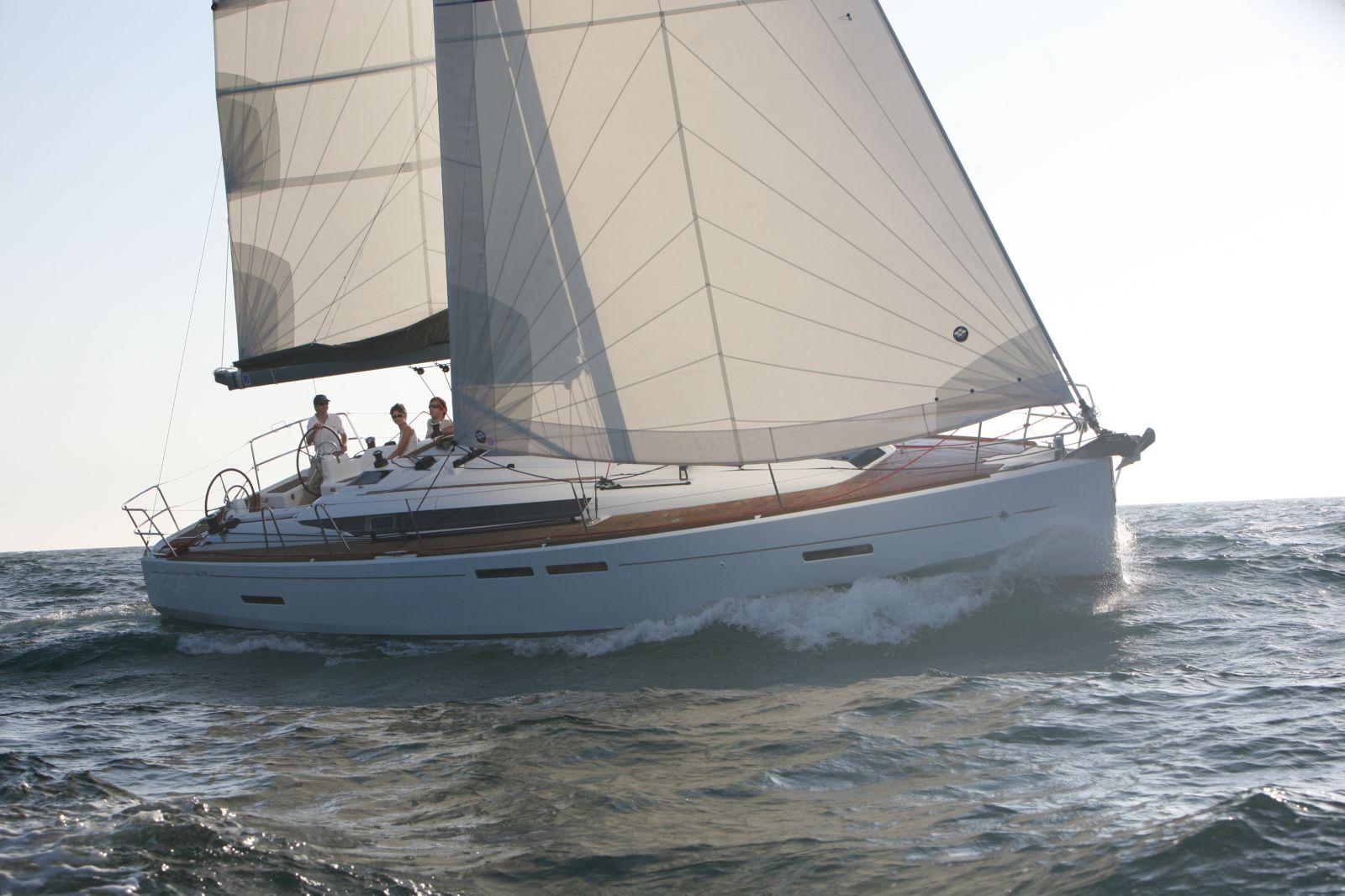 1. Tight lines
With its pronounced hard chines, flush deck portholes and sleek design, Philippe Briand designed a modern, fluid hull for Jeanneau. As it is 11.98m long and 3.99m wide, the boat looks powerful when viewed from the quay. The twin wheels create a large space in the cockpit, especially as the life raft is concealed within its own locker (where the companionway door is stored too). The transom opens up by about ⅓, so there is space for two good seats on both sides. A cockpit shower with hot and cold water is located on the starboard side.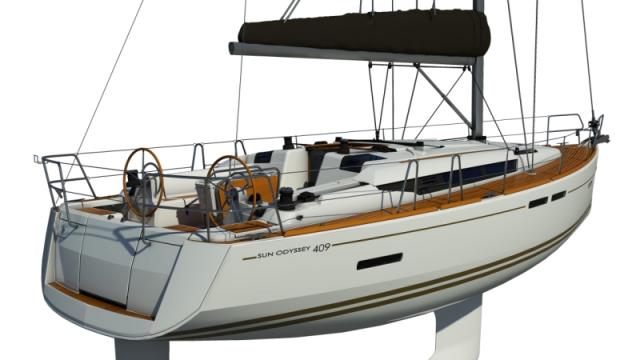 2. Solid construction
The hull, reinforced by hand-laid internal fibreglass mesh is coated with an epoxy primer and then a Gelcoat barrier coat. The bridge is injection moulded with discontinuous balsa block coring. The high-load areas of the bridge don't have this. The keel is made of cast iron. The boat is available in two versions, the GTE (2.10m draft) and the PTE (1.55m draft). The mast and boom are made of aluminium, and a version with furling mast is available as an option.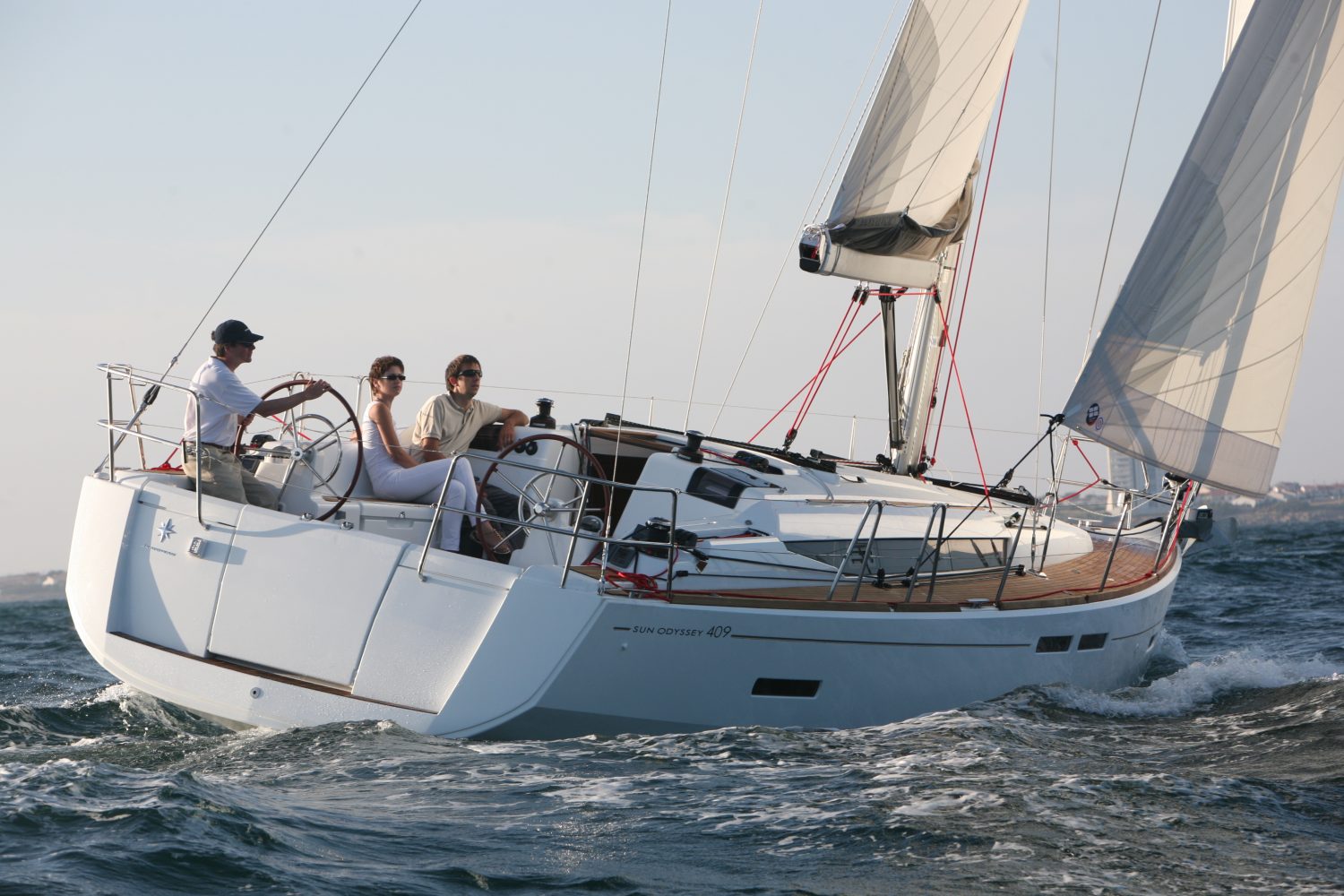 3. Innovative bridge layout
Designed to be sailed by a couple, the Sun Odyssey 409 has two winches on the helm station (which can be electric as an option) and two smaller winches on the roof. To make manoeuvres easier, Jeanneau has moved the two sail controls back with covered tracks that lead all the way to the mast, to the mainsheet traveller or to the genoa outhaul. The jammers upstream of these rear winches mean you can manoeuvre these two sails while at the helm. In fact, the mainsheet is mounted in series in the German style, so it runs back down both sides of the cockpit, so you can control it, as well as from the port aft and starboard winches, just like the genoa. There are several helm positions, including a standing helm position, thanks to the great design in this area. Wide gangways leans to the front, protected by rail posts and cable runs which will not retain a heavy load about to go overboard… A large anchor roller and an electric winch complete the picture.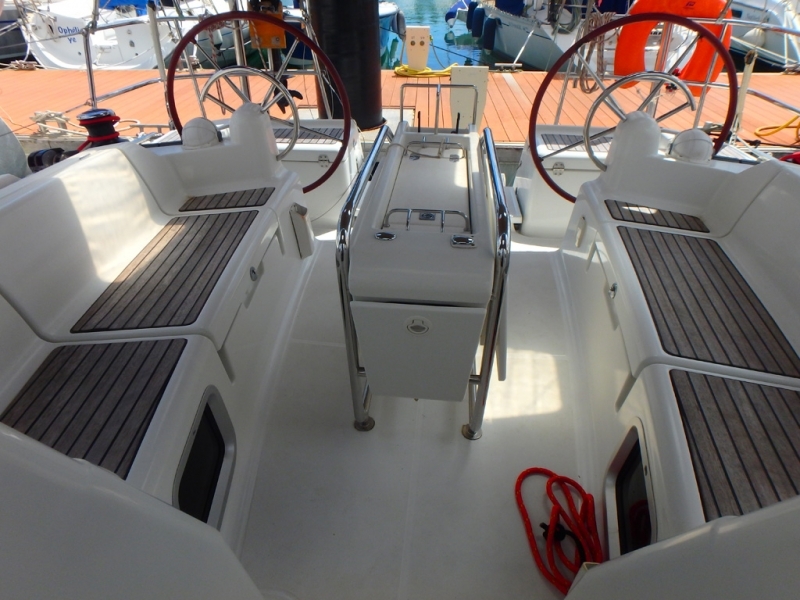 4. Clear interior and good headroom
The interior is fitted with light wood with Corian worktops in the kitchen. The atmosphere is bright and airy thanks to the deck portholes and the visibility to the outside is good. You'd almost think you were in a deck saloon yacht! The version we're trialling has 3 cabins and 2 bathrooms of a standard size. There is a folding shower curtain in the bathrooms that I thought was a bit flimsy. The berths have foam mattresses with bed bases; you can't perform miracles! All the lighting is LED lighting, which is a plus point when it comes to the electric bill. The ceiling height varies between 6'06" (aft cabins) and 6'4″ (forward cabin, companionway) and I could cook with ease at my height of 6'3″!
5. Systems
Rigging
With sloop rigging, our boat has a semi battened mainsail and a genoa on furler at 140%. As an option, you can have a mainsail on a furler, a self-tacking jib, a jib with lower overlap than ours and a code zero.
Electricity
The boat we trialled has two battery packs (2 x 110 Ah service and 1 x 110 Ah motor and propeller). It is recharged via a shore charger and an 80 Ah alternator.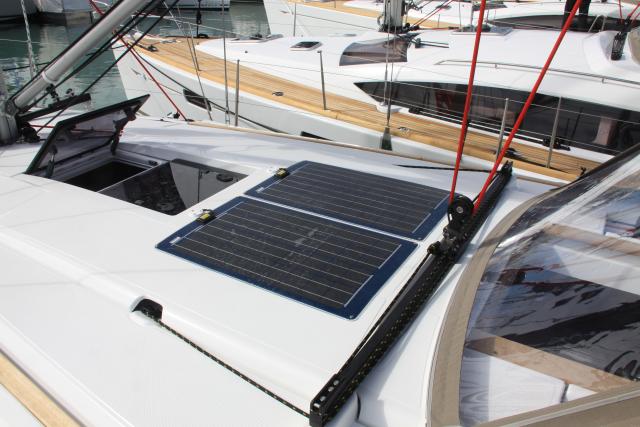 Two solar panels can be mounted on the front deck. These turned out to be vital in sunny regions because otherwise, if you don't want to use diesel (Yanmar 40 horsepower engine), the boat will have to spend a night at the quay every 2 or 3 nights… Why not provide something with more battery power?
Sanitation
With 530 lt water capacity plus a water heater that runs on 220 V and via engine cooling mean your life will be quite comfortable on board. A waste tank completes the setup.
Electronics
Our boat is equipped with Simrad electronics, including an adjustable plotter, speedometer, anemometer, and an auto-pilot (with a wind mode). There are instruments and an autopilot at each helm station which is practical. The system is completed by a docking station and a sound system that enables you to connect any digital music player or smartphone to the sound system. Please note that the boat can be equipped with a bow thruster and the new "Docking 360°" system that makes port manoeuvres easier.
6. Under sail
Sailing in fair weather
In good weather (12/15 knots of wind, slightly choppy) the 409 is perfectly at ease. The powerful hull cuts right through choppy water. When you navigate in channels between islands, you often encounter 1.5m of choppy water that this baby, which is 9 tonnes when loaded, easily deals with. All the controls are to hand. When gybing or tacking, I first leave the mainsheet to the jammer, tack or gybe, in the wind take up the slack in the mainsail with the winch, release it then replace the mainsail by the genoa and trim as required.
For even more convenience, a self-tacking jib is available as an option. All of this comes in very handy once you've got the hang of it. You can tack by yourself, like you're on a small boat, which is nice. The twin wheel system is great and means you get accurate feedback.
Sailing in more windy weather
Leaving Dominica heading north, there is wind this morning, recorded as over 15/18 knots. I leave with one reef, with an idea of testing out the second reef on the way. We pass the northern tip of the island and the wind picks up! With my wife at the helm, I reef to the second reef (automatic reef takeup) easily with no problems. But what would happen if a knot formed in the furler under the roof making the roof so flush? Reefing the genoa is no problem, from the helm I can manoeuvre the line furler and the genoa traveller. A bit later, the wind rose to a recorded 20/22 knots. My pregnant wife is a little sick today, and I would appreciate being able to go pretty straight upwind to shorten our trip to Les Saintes. Alas, this is impossible without a third reef. This 9-tonne baby is at its limits, the helm is hard and pulling away and there is too much heeling if I'm honest. I have no real choice but to start the engine and chug away to finish the day's voyage.
7. Main dimensions
Overall length: 12.34m
Hull length: 11.98m
Waterline length: 11m
Beam (width): 3.99m
Draft: 2.1m
Air draft: 18.42m
Displacement (empty load): 7,860 kg
Standard keel weight: 2,260 kg
Keel type: Cast iron



8. Conclusion
A really well-designed, smartly fitted boat both outside and inside, with a finish that is rather above average… You definitely get fond of a Sun Odyssey 409. Jeanneau has gone to a lot of trouble to make this boat easy to sail as a couple. It is definitely rentable and perfect in fair weather. On the other hand, why not add a third reef option for those who want to avoid the furler and keep their mainsail battened while still retaining the option of reefing?