The Cap Camarat have been ever-present in the highly competitive six metre (20 foot) centre console market since the 1990s, to the point of being a benchmark in their class. For its seventh generation incarnation, the Cap Camarat 6.5 CC comes with both a new design and a set of new features that fans of this best-seller from Jeanneau are likely to be pleased with.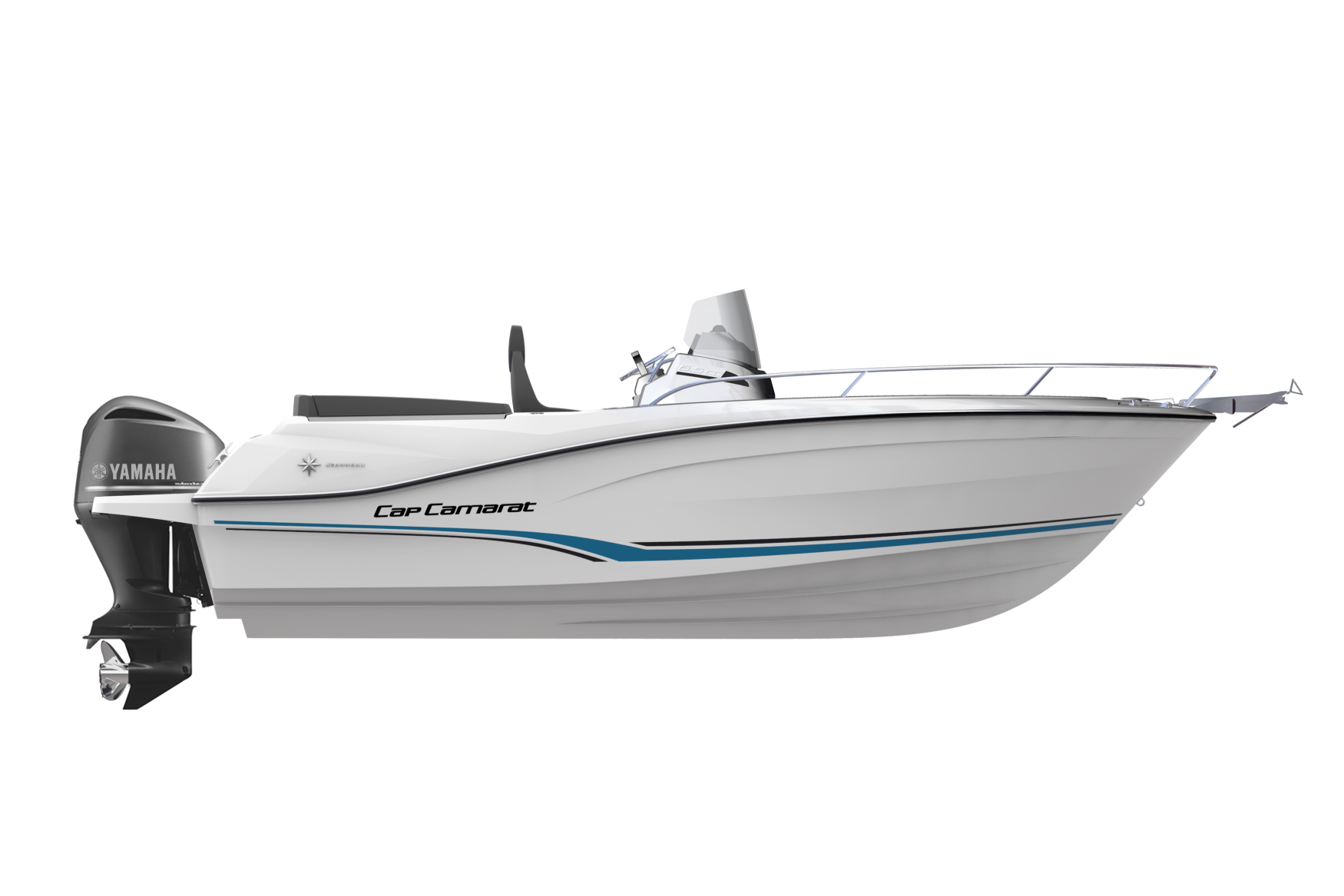 1. Structure
This transportable boat's substantial size together with its ability to offer a certain amount of comfort make it the ideal choice for day trips with friends or family. Equipped with a fairly deep tapered hull, a little wider and longer than that of its predecessor (and again designed by Patrice Sarrazin), and with a single step, twin strakes and a pronounced sheer, the Cap Camarat 6.5 CC is evolving towards a more sporty style. The central console itself, well protected by its windscreen (a little higher than on the previous generation perhaps?), is the very first in this range designed to be fitted with an optional aluminium T-top.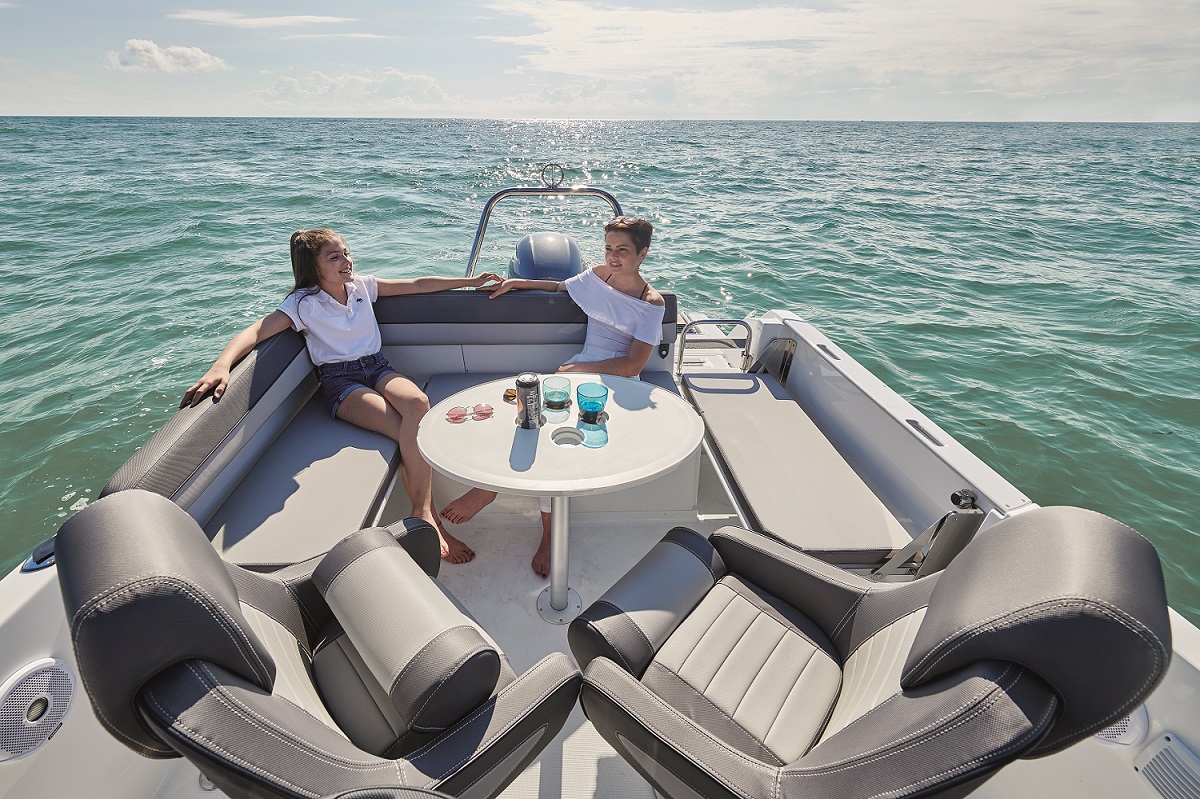 Both an L-shaped and a U-shaped rear-cockpit saloon configuration are available (with an optional fold-away side bench seat), and there is also a front-saloon option. The cabin can be accessed via the door in the console or by lifting a trapdoor underneath the seat in front of the console. And finally, the 6.5 CC can also be optionally fitted with two swim platforms, one on either side of the motor, which give the boat a longer shape and look.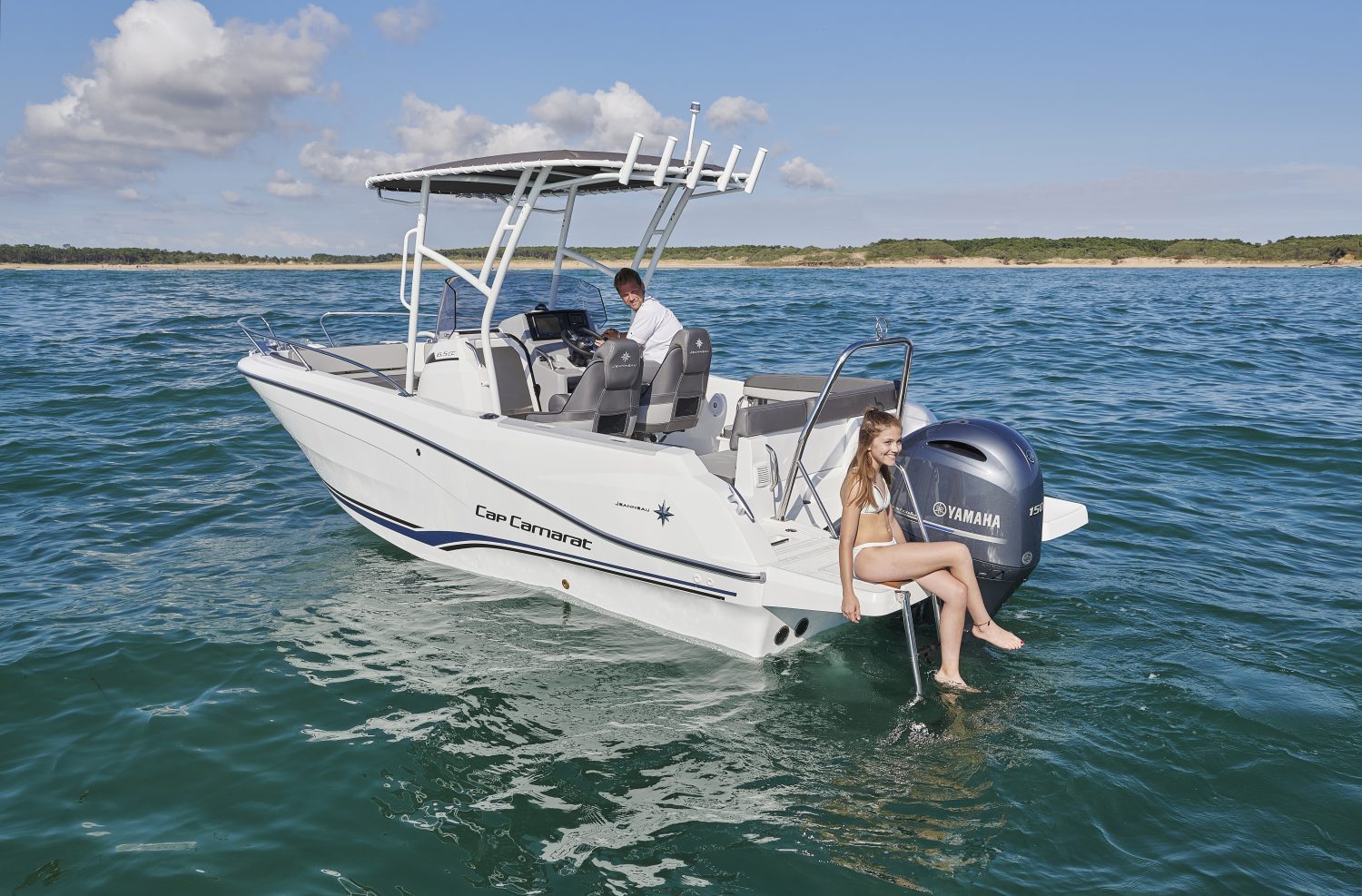 2. Engine
Though designed for motors up to 200 HP, the model tested was equipped with a 2.7 litre, 4-cylinder model from Yamaha producing 150 HP. This is basically Yamaha's best-selling motor. Mounted with a medium-sized stainless steel propeller, this electric-trim propulsion unit is designed for speed.
3. Tryout
Once seated at the controls in the comfortable helm seat (upholstered with foam padding offering just the right amount of firmness), the motor starts up with an agreeable noise. You can immediately feel the 2.7 litres. Just a few seconds later, well protected behind the fairly high windscreen, you're lifting off the water at 18 knots, and before 10 seconds have elapsed you've already reached the cruising speed of 20 knots. The boat then continues to accelerate, without balking, to around 38 knots, at which point you can dispense with motor trim, such is the balance and stability of the hull.
The slight choppiness on the day of the test at times caused the boat to lift off, at which point it would drop back down to a flat position again with quite a strong bump, but it felt solid.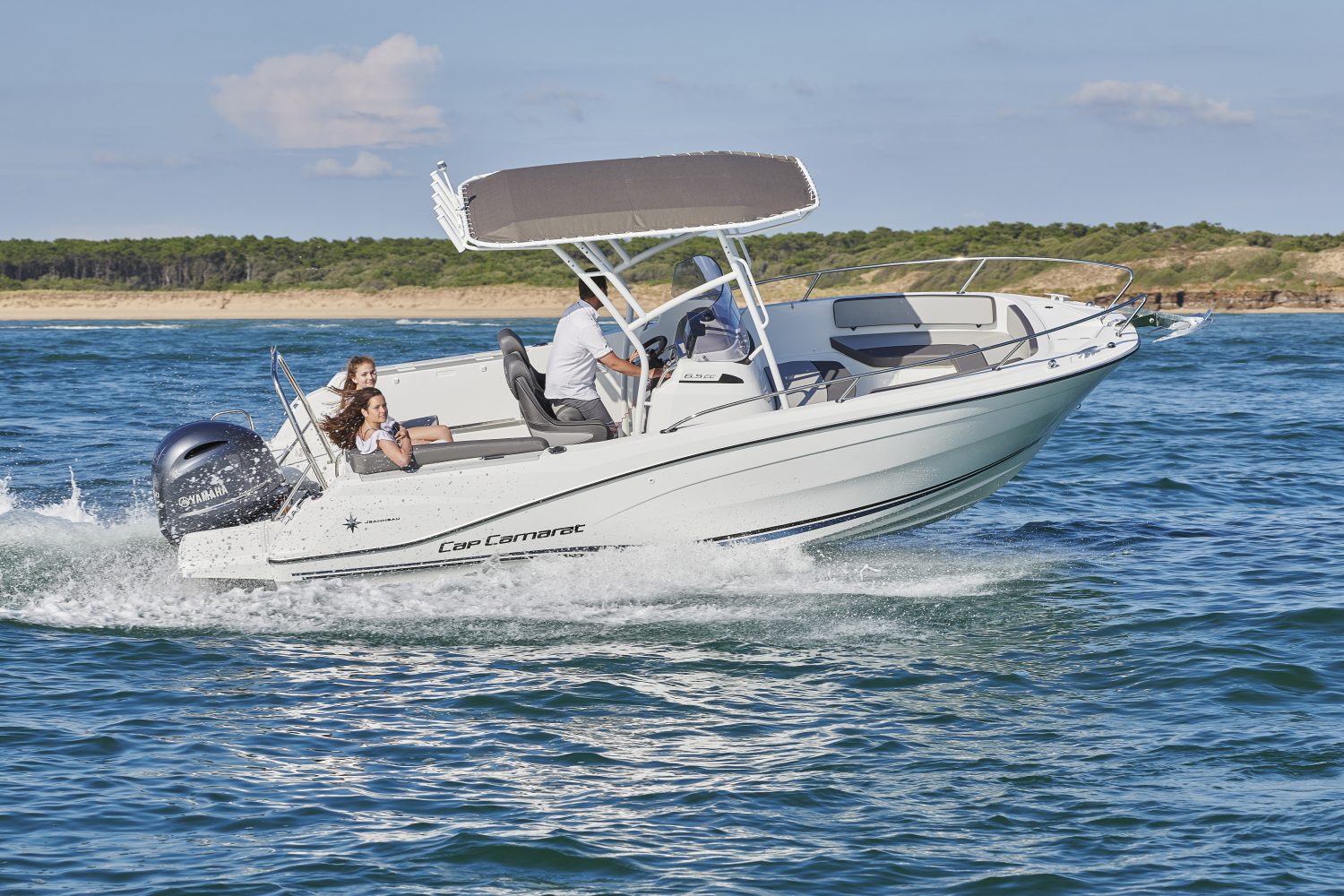 4. Life onboard
Opting for a U-shaped bench seat arrangement makes it possible to have eight people (the approved category C capacity) around the table onboard, which is one more than on the previous version. The long optional swimming platforms, each 60 cm in length, are a good option as they move wet activities away from the cockpit. The front sun deck, which can be converted into a saloon through the addition of an optional fold-away table, clearly demonstrates how versatile this boat is. The cabin serves more as a place to store things than a genuine sleeping area (as on all 20-foot day boats like this, the presence of the chemical toilet in the cabin combined with the absence of hot water makes the 6.5 CC not particularly suited to coastal overnighting), and this is needed to provide somewhere to put the front sun deck and cockpit cushions, as well as those of the aft cockpit!
The Cap Camarat range has had a central place in the daycruiser market for almost 30 years, and by offering even more usage possibilities, the 6.5 CC version should see it maintaining that position. One sun deck, one saloon, two saloons, two long swim platforms, pressurised water: the 6.5 CC has everything you need to enjoy yourself in complete safety.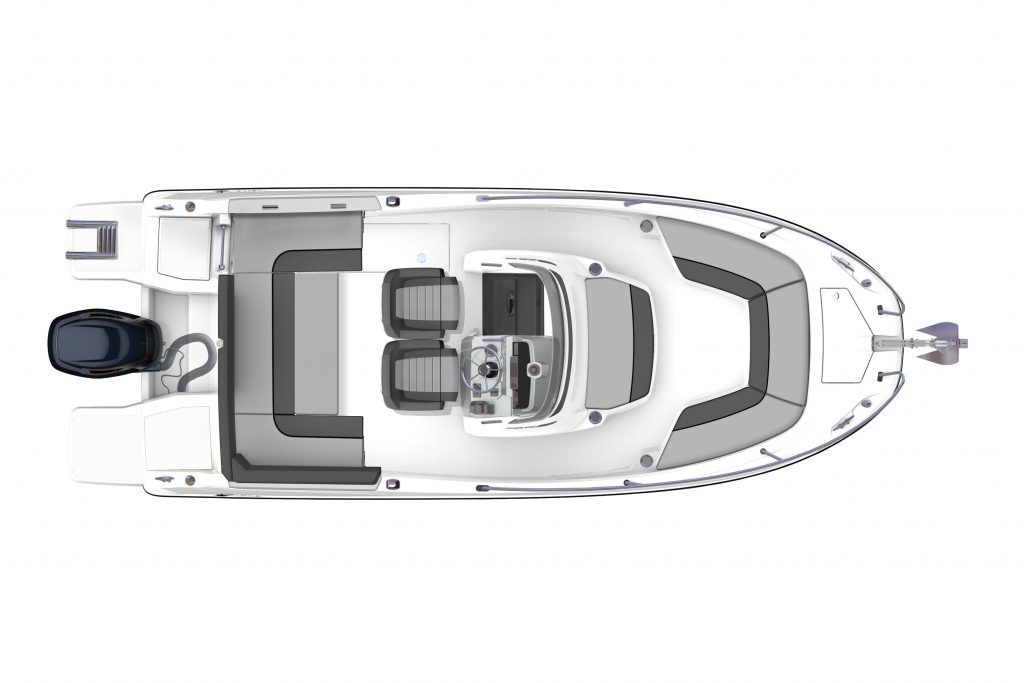 5. Pros
High level of habitability
Two outdoor saloons as an option
Well-balanced hull
6. Cons
High cost of the options.
7. Test conditions
Weight for the test around 1,425 kg (3,140 lbs)
Three passengers
Price of the version tested (motor included) €45,672 inc tax.
Yamaha 4-cylindre, 2.7 litre, 150 HP 4-stroke motor; 17" stainless steel propeller.
Fine weather
Slightly choppy conditions
10 knot winds
8. Fuel consumption
1,000 RPM: 3.5 litres (0.77 gallons) per hour at 4 knots
2,000 RPM: 8.5 litres (1.87 gallons) per hour at 6.5 knots
3,000 RPM: 17 litres (3.74 gallons) per hour at 9.5 knots
4,000 RPM: 25.4 litres (5.56 gallons) per hour at 22.7 knots
5,000 RPM: 43.5 litres (9.57 gallons) per hour at 31 knots
5,500 RPM: 52 litres (11.44 gallons) per hour at 33 knots
5,800 RPM: 57 litres (12.54 gallons) per hour at 38 knots
Discover the complete range of Cap Camarat 6.5 CC we have available amongst our used boats for sale and become the proud owner of a Jeanneau model yourself.
Article written by François Meyer.